The Junior club Cambuslang Rangers have undergone some trials and tribulations this season but local diehards have rallied around and saved the club.   They are looking forward to a decent end to the season and rebuild over the summer.
Non-Scots will need to educate themselves on the concept of "junior football" in Scotland!
The way Junior fixtures are issued means the club now have a string of home matches before the end of the season and if you have a spare Saturday they'd be delighted to see you.
They sadly lost 3-0 at home in Somerville Park on Saturday to league leaders Beith – 1-0 at half time.  A well-worked second half header and a penalty didn't really reflect a decent second half Cambuslang performance.
Cambuslang Rangers used to be a power in the Junior world – their early 1970s side being described at the Junior Team Of The Century.  On Saturday I had the pleasure to meet and chat with their legendary manager of that  time – Davie McLagan, now a spritely and highly entertaining conversationalist at the age of 90!
Somvervell  Park is across the road from Cambuslang train station and adult admission is just £6 for adults.  A couple of hundred took in the Beith game and included a decent contingent up from Ayrshire.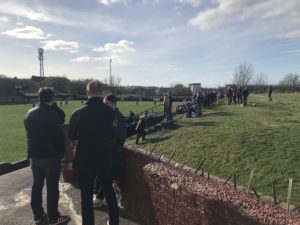 Keep up to date with fixtures on their Facebook page – https://www.facebook.com/cambygers1899/
New Chairman David Kerr took some time out of a busy Saturday to give us an update and is interviewed on this link – https://www.youtube.com/watch?v=fWI6rKchL6A&t=7s