Now we've heard our stellar line-up I thought I'd get a thread started in the build up to the St Mirren game for those on the virtual season ticket package. Let's try and keep it to that as there are plenty other threads for the 'real' RangersTV.
In todays announcement the club have stressed that those who haven't redeemed their Access Code should do so as soon as possible and suggested that those who have already done so might want to check out the test stream to establish early doors if things are going to work for them.
TIP 1 - Password Errors/Unable to Login.
I've seen a load of folk say they can't login and keep getting a message that their email or password is incorrect.
The two input boxes for your email and password will automatically capitalise the first letter of each - if you are using a mobile device.
It doesn't matter for your email but it is
critical
for your password. If the first letter of your password is lowercase then it will automatically be changed to upper case unless you turn off the caps lock key. If you don't correct that you will get the error message and be unable to login. It might be that as a result you have setup you account with a password that has a capital letter as the first letter when you thought you were setting it up with a lowercase letter. Or you might have set it up as you intended, with a lowercase letter, but when you subsequently try to login it is defaulting to the uppercase letter and you are not noticing. If you watch as you type you, very briefly, get to see what you have typed in - check it's the right upper/lowercase letter that you intended. If it doesn't work with one then try it with the other - but only once. This isn't peculiar to Rangers its very common on many sites. You should not have the same problem on a desktop/laptop, just on mobile devices. Its a setting on the device and nothing to do with the webpage (thank you
@GranvillusClutterbuckus
at post #34). If you are still having problems with your Account then these are the guys to email, as it's only them who can help (EDIT: Some later posts suggest if you get an Account Blocked message you can get around it by requesting a Password Reset rather than contacting Support):
rangerstvsupport@streamamg.com
How To Redeem Your Access Code - Only Applies If You Haven't Done So Already

Tip 2 - Access Codes.
If you are a new Rangers season ticket holder then, firstly, congratulations. Secondly you need to make sure you get your Access Code from the Ticket Office. If you haven't had it then email them on:
ticketcentre@Rangers.co.uk
.
Though they are, obviously, very busy right now with season tickets.
IF YOU ALREADY HAVE A RANGERSTV ACCOUNT
You must be signed in before redeeming voucher and your voucher will only be able to be used once.
Once logged in, go to the link below and redeem.
IF YOU DON'T HAVE A RANGERSTV ACCOUNT YET
Go directly to the link below and redeem, then you can create an account as part of that redemption flow
Please ensure you have redeemed well in advance of kick off to avoid any issues accessing, you will only need to redeem the voucher once to be used for all matches behind closed doors.
Checking Your Account Has Set Up Properly and Your Code Has Been Redeemed
Some folk are still struggling with this 'two webpages' concept and that's understandable.
If you want to check that you have set up your Account correctly and that the Access Code has been redeemed against your Account you need to go to the RangersTV website (see link below). If you login there, then go to Account you should see something to the effect 'season ticket package - expires 21 Jul 2021'. If you do, then that part of the process has worked. No additional codes are necessary, the original one is valid throughout the season or until we return. Make sure you Logout fully, sometimes the site is a bit flaky at logging you out.
https://tv.Rangers.co.uk/
After you've done that you don't need to go near the RangersTV page again. Please note that your VST package does NOT give you access to regular RangersTV content, only the matchday experience.
UPDATE: Rangers email of 7 Aug says the test stream, and the live match, can now be viewed using the RangersTV App. This is great news. See post #128 for more info. If that works you don't need to follow the images below
. Note: There is NO access for VST viewers to see other stuff. They ONLY get the matchday coverage. You also still need to redeem your code via the website - not the App - if you haven't done so already.
Accessing the live.Rangers.co.uk Website Test Stream
You need to go to the 'live' page where the match will be streamed and then follow the step-by-step walkthrough shown in pictures on the Official website. I have lifted the images from that guide and they are shown below. You should be able to do that and view the test video by clicking on 'Watch Now' next to the St Mirren match. Note the Tip about passwords above though.
https://live.Rangers.co.uk/
Tip 3 - Access Codes.
You only need to redeem your Access Code once. It is valid throughout the season and does not need to be entered for every match.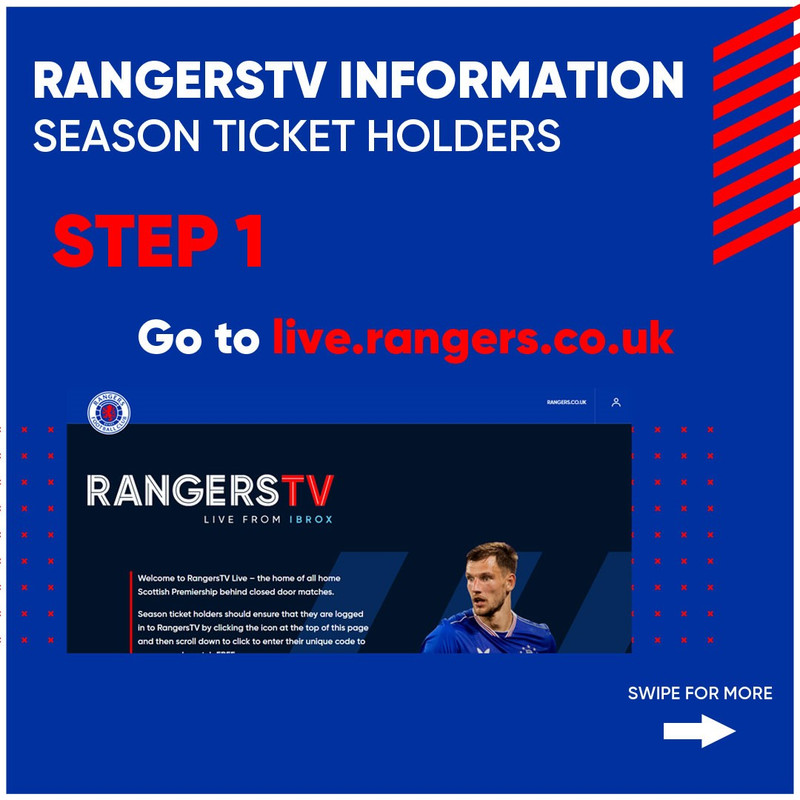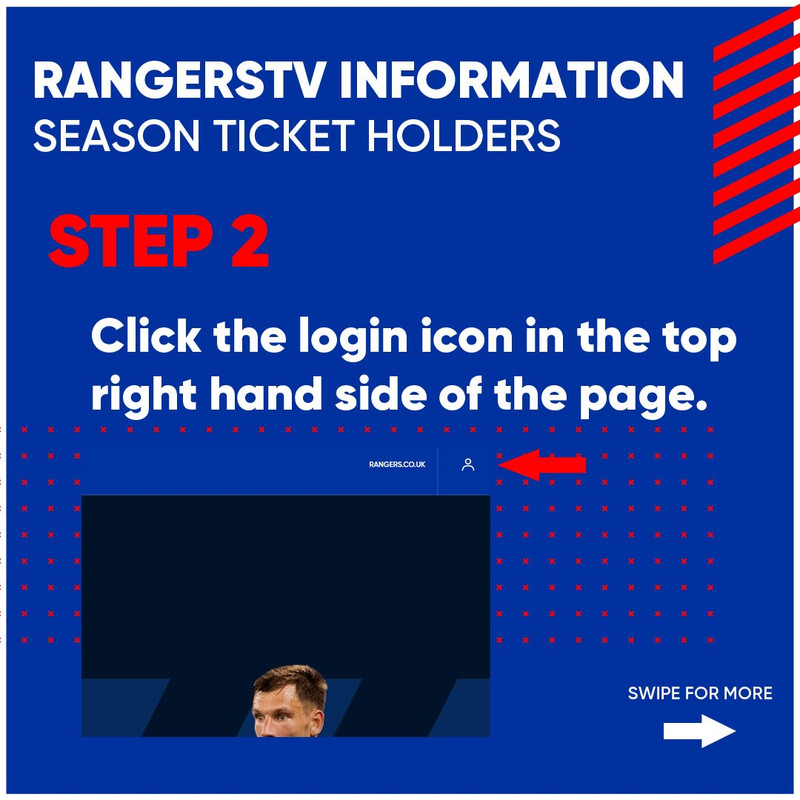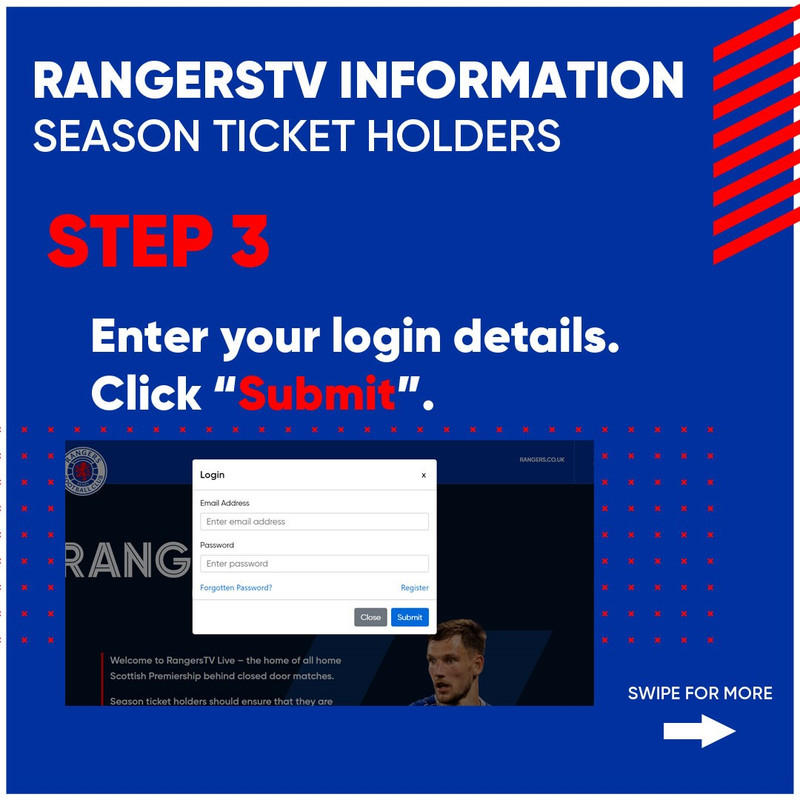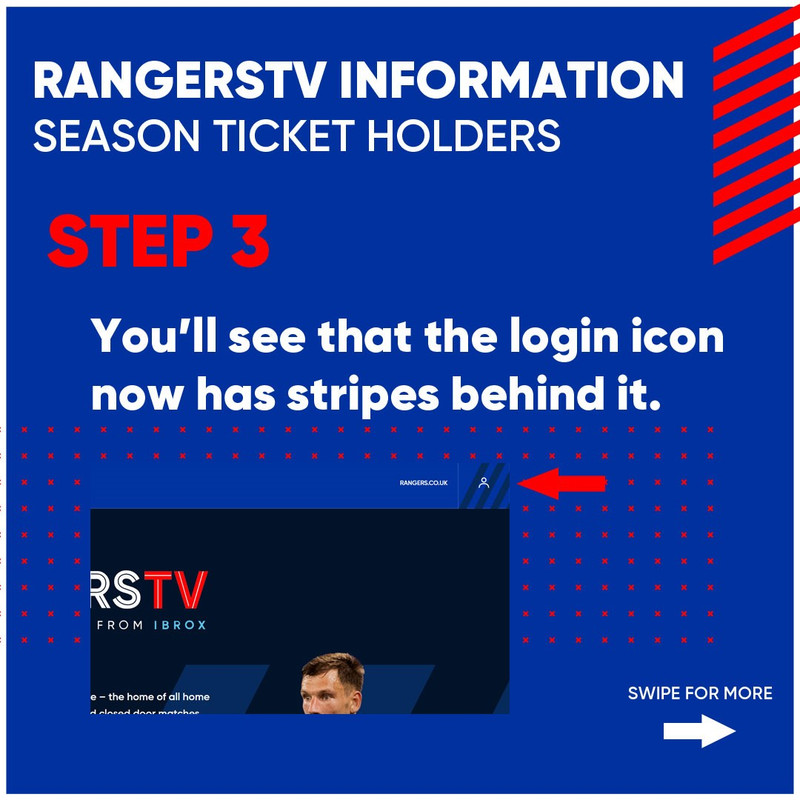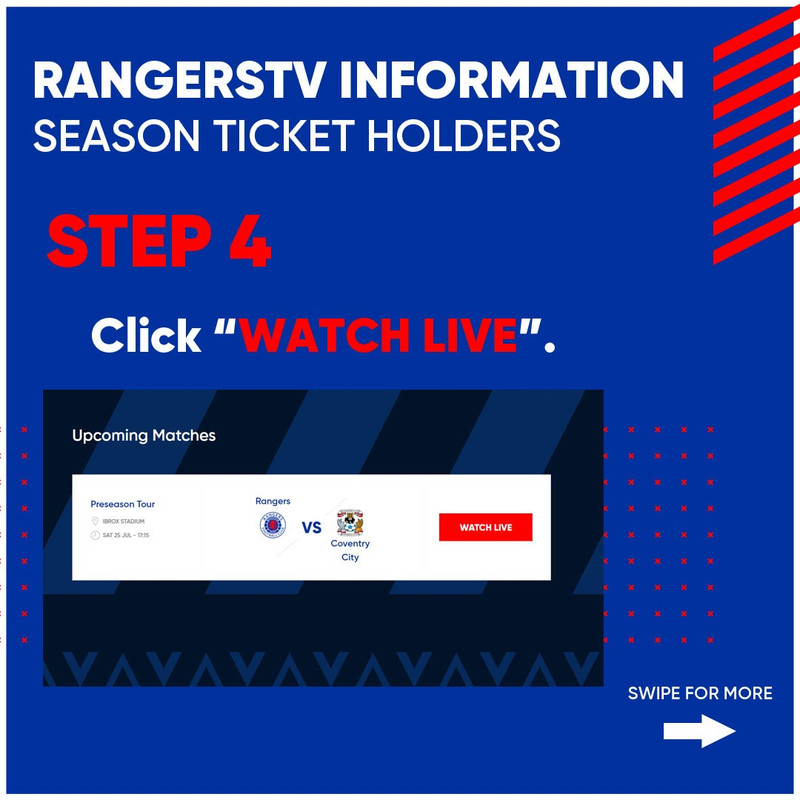 Most report success at this stage - provided they are not using an Apple device (unless StreamAMG have solved that problem in the interim, but I haven't heard anything to that effect).
SmartTV browsers are notoriously poor and it really is hit-or-miss whether you will get it to work. That's down to the tv manufacturer. They are not listed as compatible devices by RangersTV.
From what I've read on other threads, it will work with Firesticks (see post #139 for some useful info about getting the RangersTV App on a Firestick), PS4 and XBox using the browser. Its not my area though, but other will advise if asked.
Tip 4 - Apple Devices/Browsers.
Many have found that they have issues on Apple devices, though a few posts later in this thread reference success with Safari browser so that may be changing. Some report success by downloading and using the Chrome App to access the live.Rangers.co.uk webpage. Worth a try if you are struggling.
Tip 5 - Apple Devices/Cross Site Tracking.
Another tip that those with Apple devices have found sometimes works is to turn off 'Prevent Cross Site Tracking'. Go to Settings-Safari and turn off 'Prevent Cross Site Tracking'. Works for some, doesn't work for others. Turn it back on if it doesn't help you.
If anybody has any other tips they've found that work, post them and I will add them to the OP.
Hopefully
@Greg Marshall
will keep an eye on this thread and relay any major issues back to StreamAMG for resolution as well.
Finally, whilst there are plenty on her happy to help and advise, the proper channel for support queries is:
rangerstvsupport@streamamg.com
Last edited: