Well-Known Member
Official Ticketer
As the title suggests.
Found this player issued 92/93 Champions League kit in that pop up store on the Trongate. Number 19 on the back.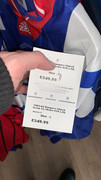 Back then, the starting lineup was normally just 1-11 so I assume it would have been a fringe player. Would still be a nice thing to own but sadly out of my price range.