By Alistair Aird
In the early days of Gio van Bronckhorst's tenure, John Lundstram was fast becoming the forgotten man of Ibrox. Signed on a free transfer from Sheffield United by Steven Gerrard, John's sum total of minutes played in Gio's first 11 Scottish Premiership matches was a mere 83. Game time had been hard to come by in the Europa League too, a single minute cameo against Sparta Prague at Ibrox being followed by 90 minutes in Lyon when van Bronckhorst tinkered with his starting XI. In fact, Lundstram has clocked up almost as many minutes in his last 16 appearances (1,413) as he did in his first 26 in a Rangers jersey (1,499).
It's fair to say that the supporters hadn't really been convinced by the Liverpudlian midfielder even before Gio arrived. And that probably explains why many questioned the manager's selection of Lundstram for a vital league match against Hearts at Ibrox on 6 February. It would prove to be a pivotal moment in the season for John.
Setting up in 4-2-3-1 formation, Lundstram partnered Ryan Jack in the '2' and they provided the solid platform upon which Rangers built an emphatic 5-0 win. And since then, Lundstram has gone from strength to strength. The only match he hasn't started in the league was the 1-0 win over Aberdeen at Ibrox, and he's completed the full match in all bar two of the others, culminating in his colossal performance against Celtic in the Scottish Cup semi final at Hampden on Sunday.
As of that Super Sunday, Lundstram has made 42 appearances this season:
| | |
| --- | --- |
| Competition | Appearances |
| Scottish Premiership | 25 |
| Scottish Cup | 3 |
| Scottish League Cup | 2 |
| Europa League | 11 |
| UEFA Champions League | 1 |
There is no doubt that Lundstram has emerged a key component in the van Bronckhorst blueprint. He keeps a cool head in the heat of the midfield battle, and nothing appears to faze him. And the flexibility he offers by being able to drop back and play in a back three is another asset, offering the manager the opportunity to change formation, reverting from 4-2-3-1 to 3-5-2. This was exemplified against Borussia Dortmund at Ibrox, and there is a compelling argument that one of the main reasons we are in the last four of the Europa League is due to that change at half time.
Passing
Although the Hearts match was a turning point, Lundstram's passing accuracy has been excellent all season. In his 26 appearances prior to the Hearts game, his accuracy stood at 89.74%, and in the 16 appearances since it's been 89.91%. Domestically, he makes an average of just over 70 passes in a match, and his passing stats rank him in the top five in the league. His midfield buddy, Ryan Jack, tops the charts according to wyscout.
Lundstram's average accuracy by competition is:
Looking at key areas of the pitch further emphasises Lundstram's passing accuracy and reinforces the argument that he is a key player for Rangers: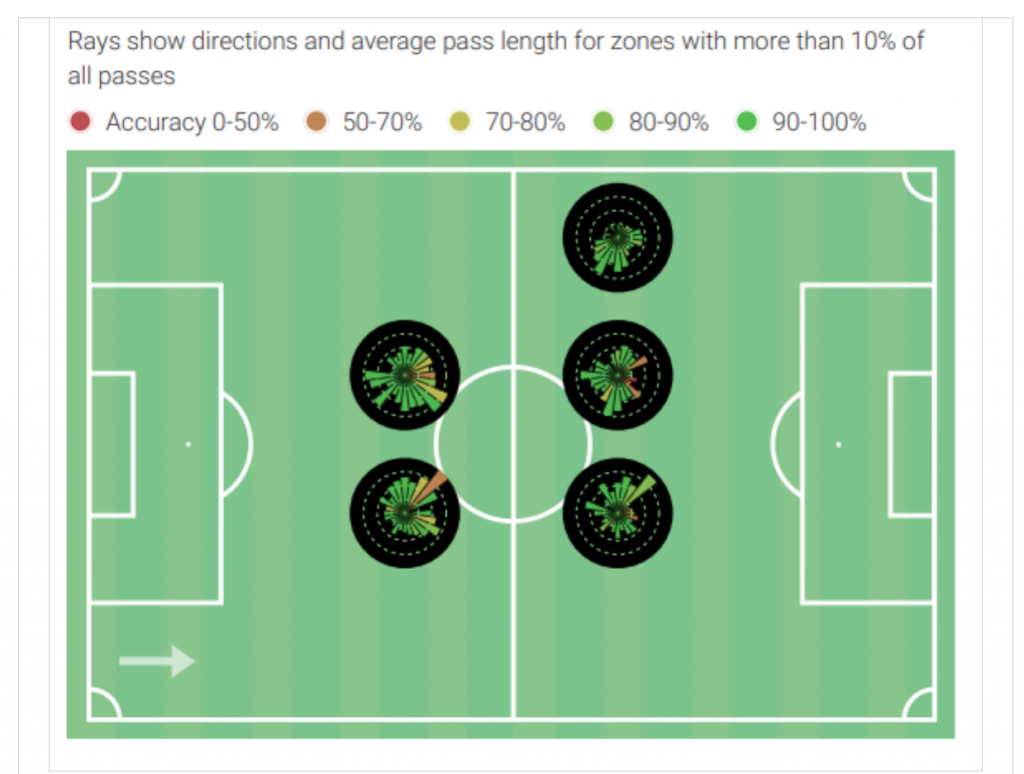 (taken from wyscout.com)
In terms of direction of pass, Lundstram has attempted 568 forward passes this season, with 466 of them (82.04%) finding a Rangers player. Passing back stats are even more impressive; John having found his man with 95.64% of his 321 'back passes'. In essence, if you give Lundstram the ball, he very rarely gives it away.
Lundstram also ranks in the top five in the Scottish Premiership when it comes to what are termed 'progressive passes'. These are defined by wyscout as:
A pass that moves the ball considerably forward. The minimal requirement for a progressive path progression towards opponent goal is:
30 metres, if starting and finishing points there are in own half

15 metres, if starting and finishing points there are in other halfs

10 metres, if starting and finishing points there are in opponent half
John sits fourth in the rankings, with an average number of progressive passes per match of 9.97. Steven Davis tops the list with an average of 13.55.
Lundstram has made almost 300 progressive passes in Premiership matches this season. His accuracy currently sits at 81.5%.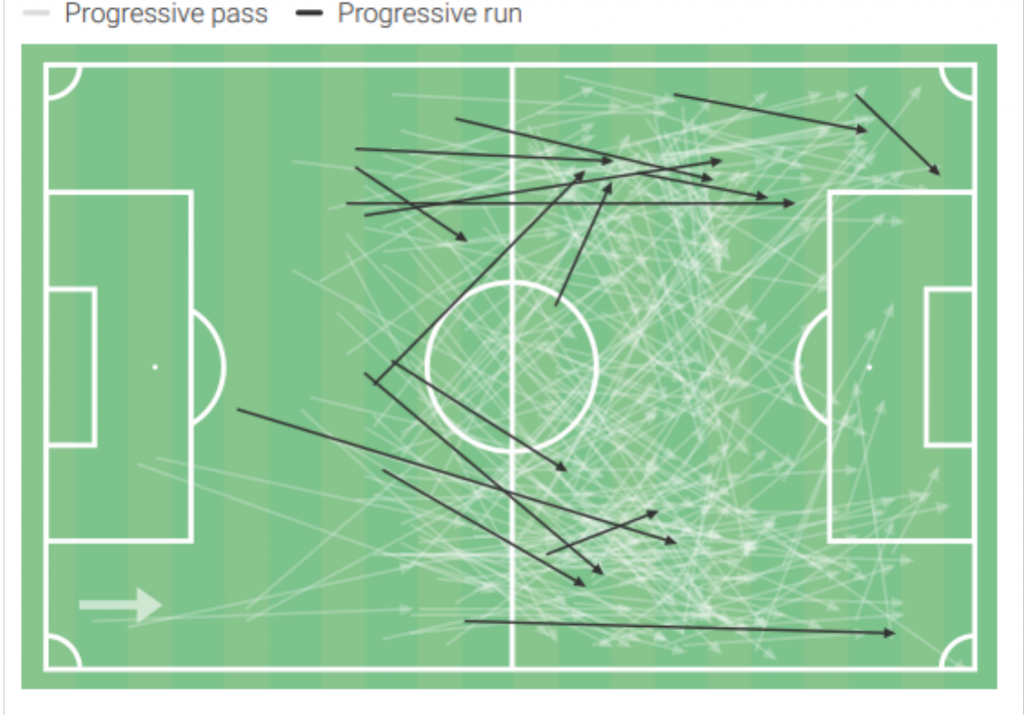 Lundstram has bossed the midfield in several games since his return to the starting XI, but he was master of all he surveyed in the Scottish Cup semi-final. His forward passing accuracy was 83% (15/18), back passes sat at 100% (10/10), while his lateral passes enjoyed a 90% accuracy (18/20). His average pass length was just shy of 20 metres. And his tackling and ball recovery was excellent too.
Duels and Possession Recovery
Playing as a defensive midfielder timing in the tackle is everything as is recovery of possession and coming out on top in defensive duels. The figures below illustrate how many of the latter Lundstram has won in his own defensive third of the pitch and the number of duels lost in the Scottish Premiership: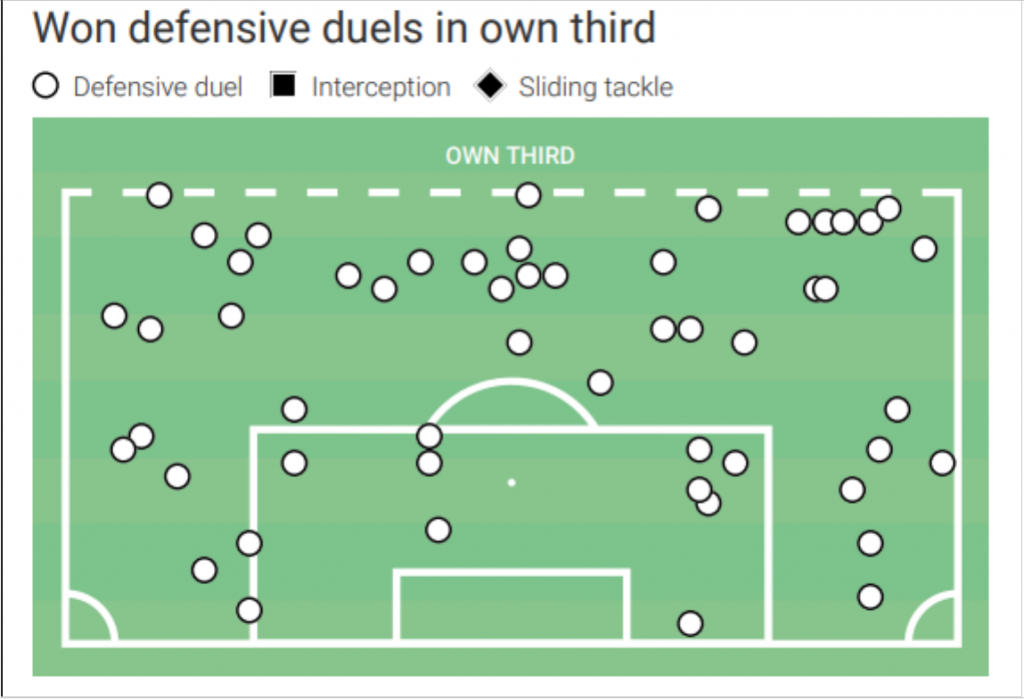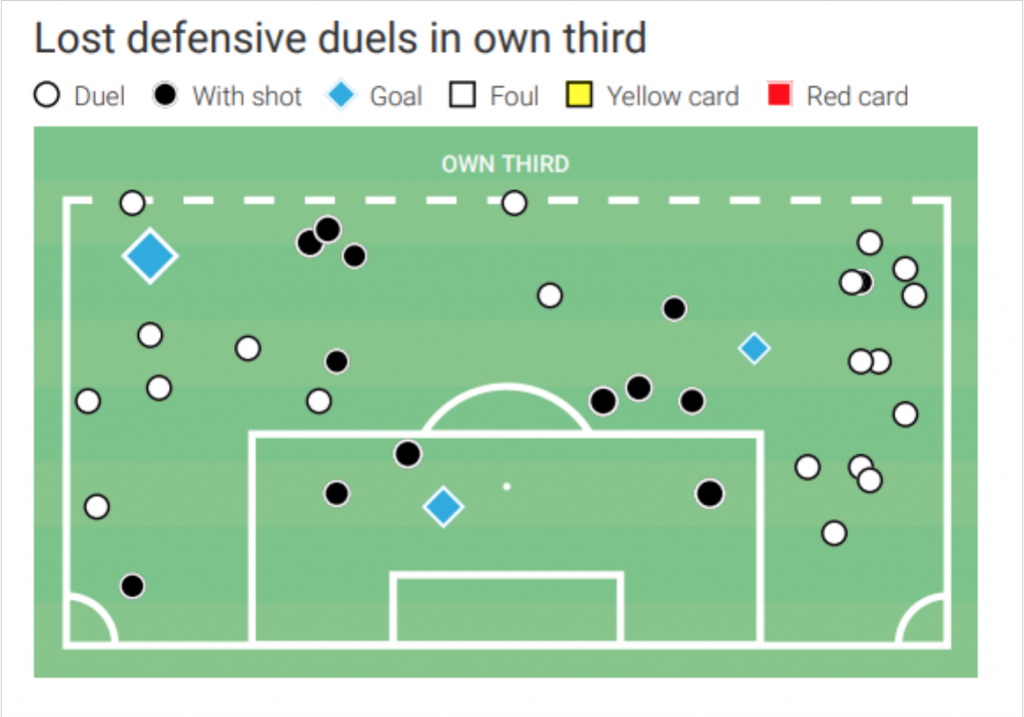 Although the figures show that Lundstram isn't infallible – the concession of vital goals against Motherwell and Celtic at Ibrox when he surrendered possession come to mind – they illustrate the important role he plays. Simply put, he's neat and tidy, and wins more defensive duels than he loses.
Of the 54 duels Lundstram has won in his own third, the highest percentage (35.19%) have come in what is referred to as 'Zone 14'. Recognised as being the most crucial areas on the pitch when it comes to producing a successful attack (scoring a goal in other words), it is also referred to as 'The Hole'.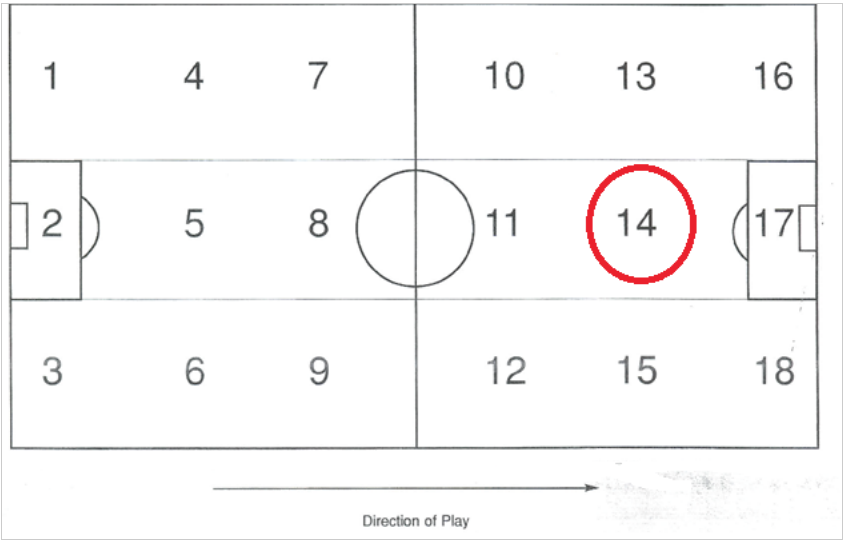 Ball recovery stats for Lundstram are decent in the Europa League too. Over the course of the 11 appearances he has made thus far, he has recovered 33 balls, two less than his midfield partner, Ryan Jack. Both will have to go some to catch up with the leader of that list, though; Connor Goldson having recovered 74 balls in the tournament to date.
Tackling and Discipline
The numbers and figures above are testament to Lundstram's ability to read the game, and this is borne out when you consider his tackling stats and discipline too.
Lundstram obviously prides himself on staying on his feet. In the 42 appearances he has made for Rangers this season, he has made just 24 sliding tackles. He has won 50% of them. And when he does engage in a tackle, he rarely commits a foul. His average for this season is 0.94 per match, and the most fouls he has committed in a single match, four, came against Celtic at Hampden.
For such a combative midfielder this may come as a surprise as will the fact that Lundstram has only been yellow carded once domestically this season. That came in the recent league match against Celtic at Ibrox. In Europe, he was booked twice inside 10 minutes against Alashkert at Ibrox, but since then he's only picked up yellows against Brondby and Borussia Dortmund.
Hard but fair would therefore sum up Lundstram. You only have to look at his robust, no-holds barred, bone-jarring challenge on Celtic's captain on Sunday to illustrate that point. The ball was there to be won, Lundstram went for it, kept his eyes fixed on it and timed his challenge such that he made contact with the ball as McGregor went to clear. There was no excessive force used even though McGregor went spinning into the air. It was the type of committed challenge that has been sadly lacking in recent Old Firm matches, and Lundstram has rightly been lauded by the Rangers supporters for it.
Summary
John Lundstram has emerged from the shadows to become one of the first names on the teamsheet for Giovanni van Bronckhorst. As his heat map shows, he covers almost every blade of grass in the areas of the pitch he is supposed to patrol: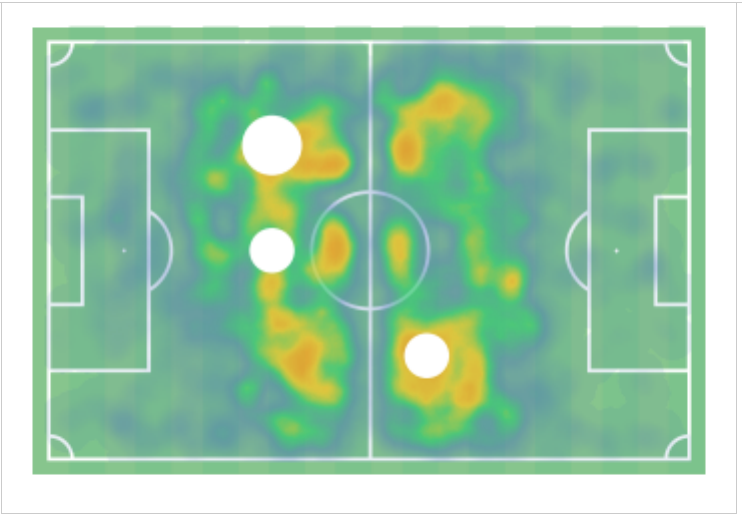 Indispensable? I would argue he is, so as we enter the business end of the season, we will need guys like Lundstram to continue to excel. His recent performances suggest that the guy who is fast becoming a cult hero will do exactly that as the quest for silverware at home and in Europe continues.