By Alistair Aird
You might find this hard to believe, but this weekend a player who has only played a single minute at Hampden in the Scottish Cup for Rangers is scheduled to play his 500th competitive game for the club.
Allan McGregor's late cameo against Hearts in the Scottish Cup Final last season is remarkably the only time he has crossed the white line in a Rangers jersey at the National Stadium in a Scottish Cup match. He was on the bench in season 2001/02 when we famously beat Celtic in the Final, and the following season he was on the bench again as we beat Motherwell in the semi-finals and Dundee in the Final. In season 2007/08 he was injured when we faced St Johnstone in the last four and Queen of the South in the Final. And the following season, the infamous 'Boozegate' incident with Scotland had cost McGregor his place in the first XI, so Neil Alexander was between the sticks as we defeated St Mirren and Falkirk.
Last season, Giovanni van Bronckhorst favoured selecting Jon McLaughlin for the Scottish Cup games, which means McGregor watched from the sidelines as we defeated Celtic before making that fleeting Final appearance. Many felt that was a moment of sentiment which confirmed that our often-talismanic goalkeeper was bidding farewell and bringing the curtain down on an illustrious career that has him rightly elevated to the top end of the list when we start to talk about who has been the greatest Rangers goalkeeper ever.
Across two spells, McGregor has to date made 499 appearances for Rangers if you only include matches played in the league, Scottish Cup, League Cup, and Europe. He has conceded 417 goals and recorded 223 shut outs.
The following breaks that data down and serves to illustrate just how important McGregor has been to the club during his time with us.
(Key: GC = Goals Conceded, SO = Shut Outs)
FIRST SPELL – SEASON BY SEASON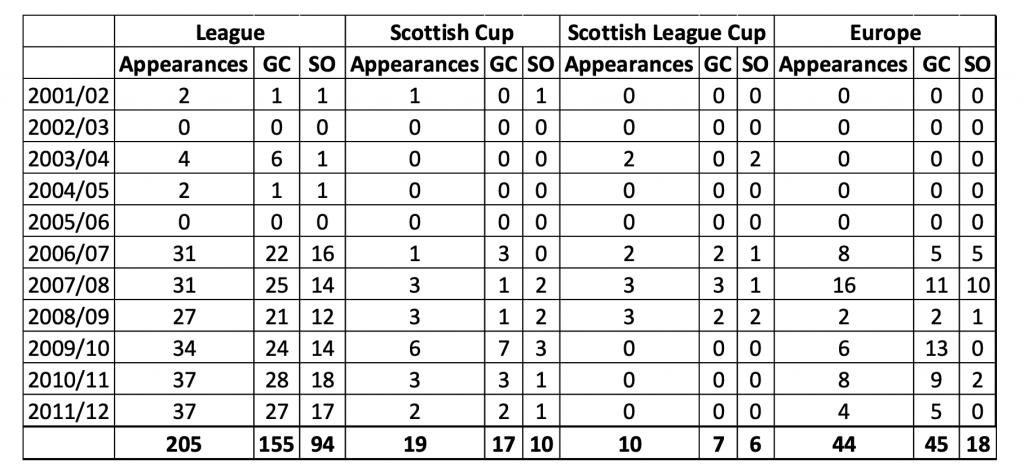 SECOND SPELL – SEASON BY SEASON

What stands out for me here is the number of additional European matches played by McGregor during his second stint, 65 in five seasons compared with 44 in six seasons following his European debut against Molde in September 2006.
No one has played more European matches for Rangers than Allan McGregor, and it is in that arena that he has made some of his most superlative saves. The fingertip save in Bremen immediately springs to mind as does his stunning stop late in the game against Slavia Prague.
McGregor's penalty save from Aleksander Katai against Red Star Belgrade is the one that sticks out more than others for me, though. Plunging to his right, he kept his wrist strong to parry away Katai's shot, a shot that was hit with some power. It was a pivotal moment. Had Red Star scored, momentum in the tie may have swung in their favour and the journey to Seville could have been terminated at that stage.
The following is a breakdown of McGregor's 109 European appearances by competition: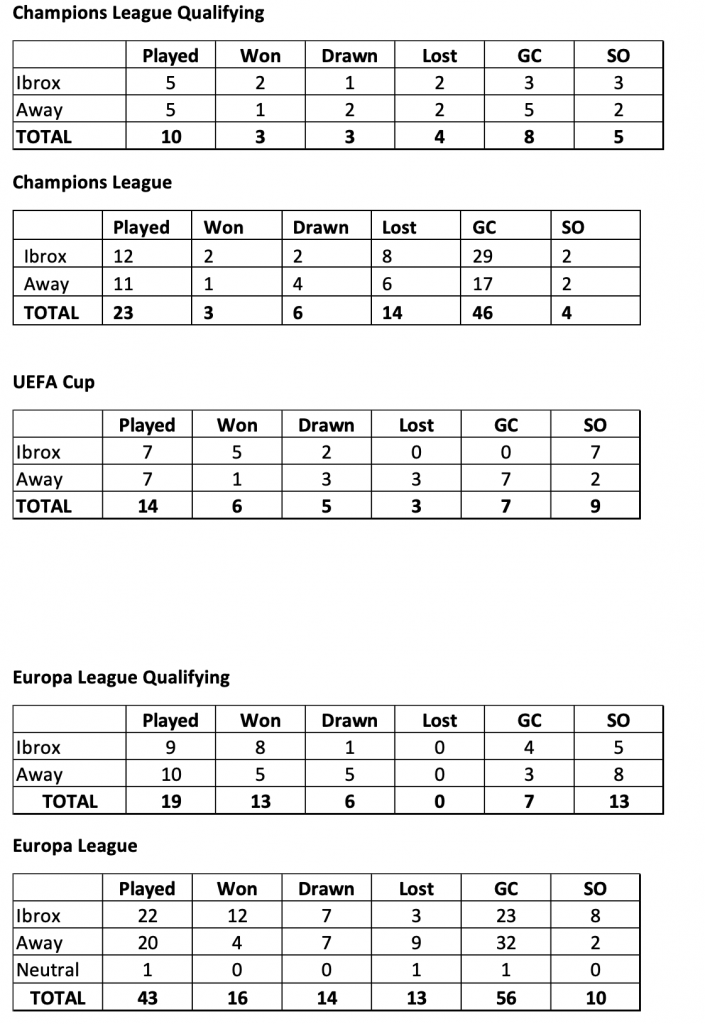 Incidentally, the goalkeeper that is second on the list of appearances made in European competition is Stefan Klos, Der Goalie having played 47 times for Rangers at that level. One of them was as a substitute after McGregor was ordered off against Hapoel Tel Aviv at Ibrox on 22 February 2007.
McGregor has actually been sent off three times for Rangers, and is one of only THREE goalkeepers to have been ordered off in our history. The others are Chris Woods and the late Billy Thomson.
Scottish Premier League
Across his two spells, Allan McGregor has made 341 league appearances for Rangers:

If you discount the appearances Jerry Dawson made in the Scottish Regional League West Division and Southern League during World War II, then only Peter McCloy has kept goal for Rangers in more league games than McGregor. 'The Girvan Lighthouse' chalked up 351 between 1970 and 1986, and with nine league games still to play this season, McGregor, if selected, will find himself one appearance shy of that record.
There have been numerous standout moments in those matches. The one that seems to be mentioned more than most is the penalty save from Giorgios Samaras in April 2011. It was certainly a title-defining moment – a win for Celtic would have put them two points clear at the top with a game in hand – but for me, the most important save McGregor made while on league duty came at Ibrox on 2 January 2021.
Rangers were rampant that season, and came into the match 16 points clear of Celtic. But the visitors had three games in hand, so a win for them would have cut the gap to 13 points which could have been further reduced to four had they won the additional games. The psychological pendulum could have swung in their favour.
But try as they might, Celtic simply couldn't beat Allan McGregor. He denied Edouard twice and thwarted Leigh Griffiths with an instinctive parry when the Celtic forward's shot was deflected. However, the moment that arguably sealed 55 came later in that first half. Griffiths took aim, curling a left foot shot towards the top corner. But McGregor stretched every sinew to reach the ball with the fingertips of his right hand and diverted it onto the outside of the post. It was one of those moments where your jaw drops in awe.
An own goal from Callum McGregor gave Rangers the three points and the edge in the title race. Celtic never recovered after that, and when we reflect back on that monumental season, that save from McGregor should be at the forefront.
Scottish Cup
Allan McGregor made his competitive debut for Rangers in a Scottish Cup tie. He came on as substitute for Stefan Klos in a 6-0 win over Forfar Athletic at Station Park on 24 February 2002, and since then has registered the following data in the competition:

One hopes he will add a further two Hampden appearances to the above later this season and in so doing add to that single minute of Scottish Cup action at the National Stadium. Two wins will also see McGregor add another Scottish Cup winners' medal to his collection.
Scottish League Cup
Forfar Athletic also provided the opposition when McGregor made his first League Cup appearance for Rangers. That was back on 28 October 2003 and resulted in another 6-0 win, this time at Ibrox. Christian Nerlinger scored a hat-trick and Egil Ostenstaad was also among the goals.
McGregor's League Cup record reads:

Appearances in the tournament were limited at the end of McGregor's first spell, with Walter Smith opting to select Neil Alexander and keep his number one goalkeeper fresh for the league and European matches.
Arguably McGregor's finest moment in the competition came in the final in season 2007/08. With Rangers and Dundee United locked at 2-2 after extra time, the match went to penalties. McGregor, who has an excellent penalty record, saved efforts from Robertson and Wilkie which allowed Kris Boyd to rattle in the winning penalty kick.
Conclusion
They say that you never miss what you have got until it's gone, and that will be the case when it comes to Allan McGregor. Although he has been criticised by the fanbase over the past couple of seasons, I don't think we will truly appreciate how valuable McGregor has been for Rangers until he's no longer playing.
I don't envy our new goalkeeper following in the footsteps of a legend. But as a club we have a wonderful track record when it comes to goalkeepers, and we have a history of replacing colossal goalkeepers with others of a similar ilk.
Herbert Lock was replaced by the remarkably consistent Willie Robb, and Robb himself was replaced by Tom Hamilton. Hamilton, part of the Cup hoodoo busting side in 1928, was succeeded by Jerry Dawson, and when Dawson left the club, we brought in Bobby Brown. And when Brown stepped aside, we brought in George Niven and Billy Ritchie. Chris Woods was replaced by Andy Goram, and Goram's gloves were then eventually taken by Stefan Klos. And after Klos retired, McGregor picked up the mantle. Let's hope that that trend continues in the summer of 2023!
In the meantime, we offer our congratulations to Allan McGregor on reaching such a significant milestone and thank him for the service he has given to our wonderful football club. He is without question one of the greatest goalkeepers ever to play for Rangers Football Club.