The morning after the night before.
A horror start from Rangers was soon flipped as the team showed great character to get back into the game and incisive attacking play meant half-time came with a numerical advantage in goals and players on the pitch.
By 51 minutes, Rangers were cruising. Alfredo Morelos history making, record breaking goal from James Tavernier's assist put the team into a position that seemed very unlikely and beyond most reasonable expectations pre-match.
Unfortunately, three further great chances to put the game beyond doubt were squandered. Benfica did not change tack. They continued to believe in their ability and their measured approach when it seemed that they would surely have to 'go for it'.
Veteran Benfica coach Jorge Jesus' decisions and changes were vindicated when Darwin Nunez finished clinically beyond Allan McGregor to secure a 3-3 draw for the hosts and with it, their unbeaten run at home in the Europa League.
A Bola
'Darwin's Law. The Uruguayan jumped off the bench to equalize when almost everyone thought the game was lost'
As pictured, this was the headline and narrative from Portuguese sports daily A Bola.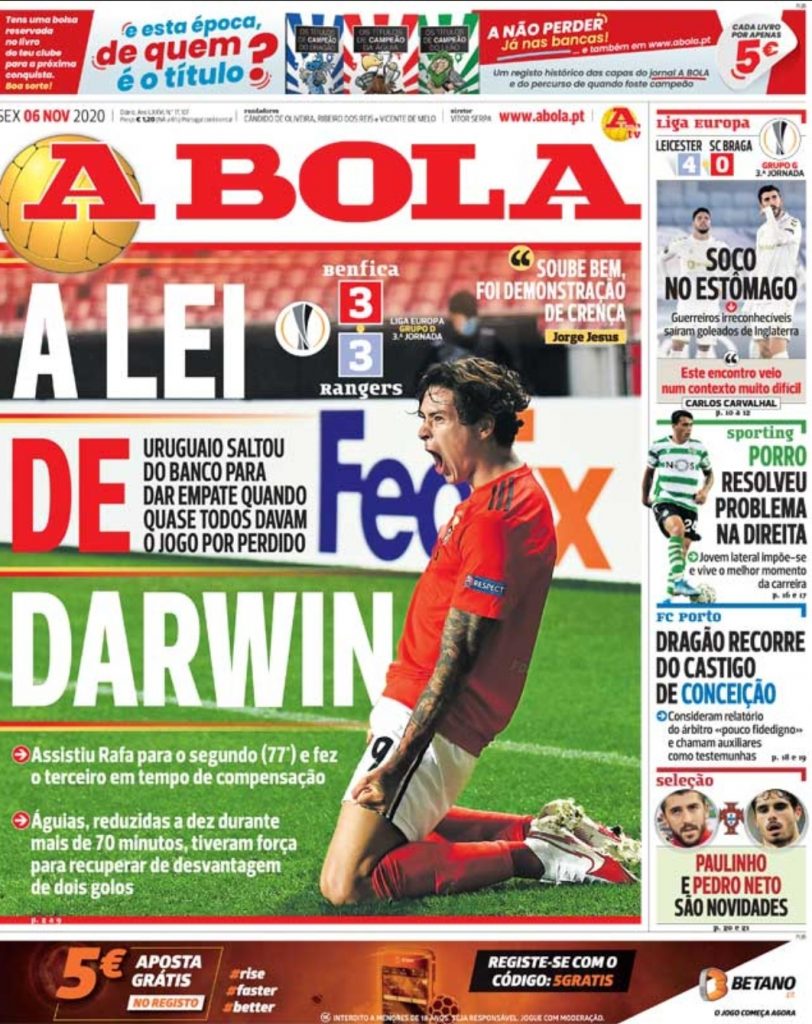 They also featured quotes from Benfica boss Jesus, who gave praise to Steven Gerrard's team and tactics, highlighting Tavernier and Borna Barisic.
'It was a difficult game, but the Benfica players are to be congratulated. This Rangers team has quality, we knew they were going to play the game with us. We started well, in the first 10 minutes we had control of the game but after Otamendi's expulsion we had a period, it is normal, when we did not adapt to playing with one less. We took the own goal, then the 1-2 and emotionally and tactically we were lost. With less than one player, everything is different in relation to the positions and it was essential to reach the interval, we were leaving the side runners uncovered, Rangers have two great full-backs, in my opinion, and play in a very aggressive and different 4-3-3. normal. It is not a 4-5-1, it is a 4-3-3'.
'In the second half we knew how to wait for the moment, I told the players that we were going to have two or three to score but we couldn't fail. With the arrival of Darwin, and he was practically alone against the two centre backs, we reached 2-3 and then 3-3. Today there were two or three players who demonstrated a champion's belief and that is how teams are created to react to difficulties. It is an important point for qualifying.'
O Jogo
Porto based O Jogo also led with the same theme on their front page.
'Darwin put out the fire' states the headline.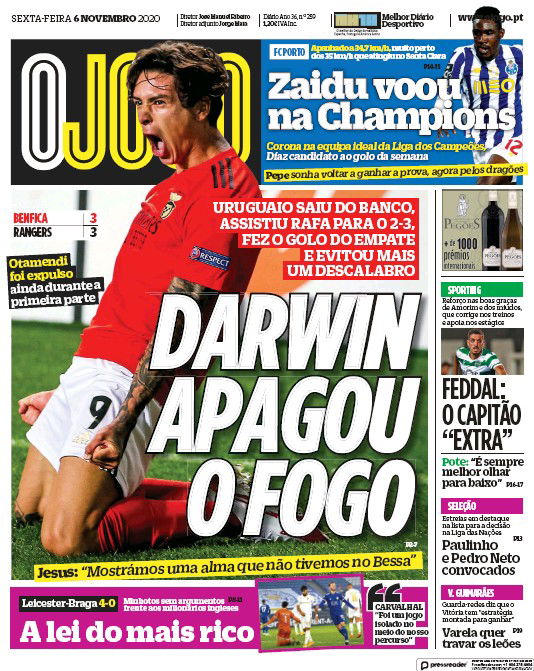 Further perspective was provided on the omission of Darwin Nunez and Luca Waldschmit from the starting line up, Jorge Jesus again on his forward pair.
'I was thinking about giving them rest. They had been playing for five consecutive games and I felt I could rest them, otherwise they wouldn't recover in time for Braga. As we had six points in the League Europa, I thought that, even if we didn't win, we would have more chances of being able to have an advantage in the group and in Braga there is no longer that factor. the certainty that against Braga they will be loose and like a bullet.'
All of the above goes some way to provide perspective on the result last night.
It is a pity and a wasted opportunity that goal scoring chances not taken, individual mistakes and a lapse in game management resulted in Rangers not securing the win that was fully within grasp.
It feels very similar to the game against Spartak in Moscow a couple of years ago but all fans can feel confident that the team is improving, making strides and getting closer to the required level. The evidence is there and the performances so far this season allow for a very minor blip, in the grand scheme of things, that was dropping a two goal lead to Benfica in Lisbon.
Still unbeaten at home and abroad, still setting the pace. More of the same please.
Graeme Hanna
@graeme818