My neighbour was recently working on his house and discovered a few old newspapers inside walls and under floorboards.  He gave me two of them as he knows my interest in football history.
One is the Evening Citizen of 19 Jan 1966 and the other is the Daily Record of 18th November 1974.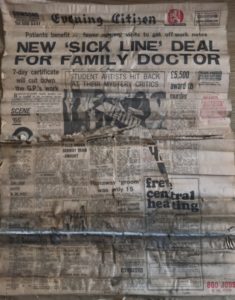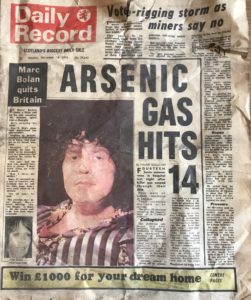 There's nothing particularly profound in either of the papers – or pages to be more accurate.   The Record was probably in its heyday as the voice of Labour-voting central Scotland and showing off its colour printing capabilities and providing a heady mix of sport, music, politics and pretty girls.   
The Evening Citizen was the favoured evening paper in our house before it closed down – as some noted on the internet – a great paper, because of it's size, for 'drawing the fire' in the days when we all had coal fires in the house!
Starting with the Citizen – we note that a winter break was being pondered back in 1966 because of the Big Freeze.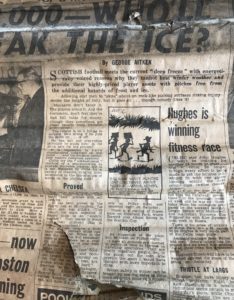 John Greig was speaking is his childhood support of Hearts and Willie Johnston was out injured.  Interestingly a story about a Junior team was part of the back page and inside one of the supporters club notes was for the Glenwood RSC from Castlemilk.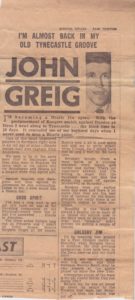 From the south we learn Jim Baxter was suspended for a fortnight for striking an opponent when playing for Notts Forest.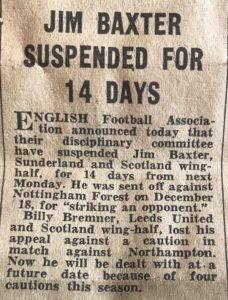 On the front page the big news was changes to the procedure for procuring a doctor's line!
A suit from the Granite House would cost you six pounds and nineteen shillings.  A pair of cords would cost thirty-five shillings and eleven pence – £1.80 in today's money.  A sports coat cost five guineas – five pounds and five shillings – £5.25 today.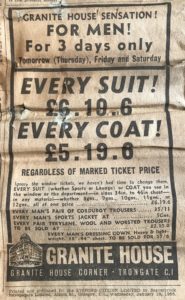 And the famous Les Kellet was wrestling at the Kelvin Hall.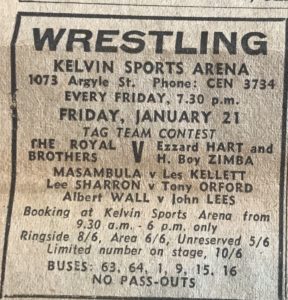 Fast forward to the Daily Record in November 1974.
Marc Bolan is on the front page alongside with news of a miners' ballot – in my youth trade union news was really big news in the UK.  News also appears on the back page with news of bus strike and a rather nice view of Miss South Africa's legs!  Inside there is coverage of the death of Irish President Erskine Childers.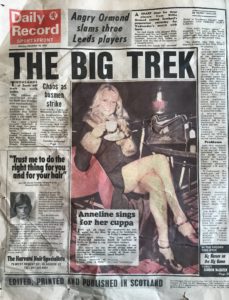 On the sports front we have a bust-up between Scotland Manager Willie Ormond and three Leeds players – what would a Scotland manager give not to have a trio like Peter Lorimer, Billy Bremner and Joe Jordan?  Inside another Leeds legend Gordon McQueen talks about the forthcoming international against Spain.  
"Wee Willie" Ormond isn't often mentioned these days but he was one of the legendary Hibs forward line – "The Famous Five."  He took Scotland to the 1974 World Cup finals and I'm sure he had a pretty good win rate – perhaps only second to Tommy Docherty's short reign – one of our readers can perhaps assist with the stats?
An advert for the Scotland v Spain game advertises open terracing tickets for 50 pence – just £5.75 today if you account for inflation.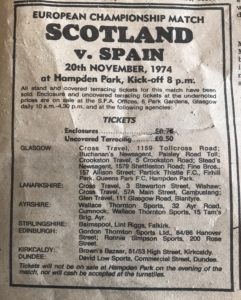 Another period piece is Alex Cameron's column – later in the Sunday Mail his column would feature the slogan "Writing candidly and keeping you informed."  In those days the papers with their huge circulations were king as far as football news was concerned and he had a huge following.
Candid sagely notes the pulling power of the Old Firm.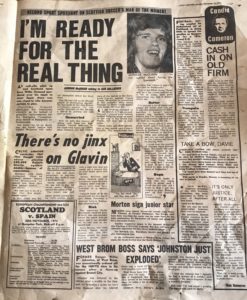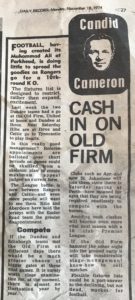 And Willie Johnston has been sent off for the ninth time!