By Blake Porter  @Necrokvnt
I couldn't believe it when Rangers where drawn against Shkupi from Macedonia in the Europa League Qualifiers. It was a mix different emotions – happiness, Intrigue, but most the most prevalent emotion was frustration. 
You're probably asking yourself why I was frustrated. Well, I was in Macedonia when the draw was made, so I missed out on the game by one month, and I knew that I would never get the time off work to be able to attend the game in Skopje having just taken two weeks off to go to the country on holiday. So, the next best thing I can do is to use my experience of the city and write a mini guide for any fellow Bears who wish to have a great time in Skopje.
The country, for those who do not know, is squashed in between Albania, Serbia, Kosovo, Greece and Bulgaria which means there is no coastline to speak of. The location of the country creates a rather unique climate which sees a mix of Mediterranean heat and Central European humidity. Summer days have been known to reach anything up to 45 Celsius, so if it's a holiday in the sun you are looking for then you are in luck.  Enough about the weather, let's talk about the thing we all care about most (other than the game itself) – Beer!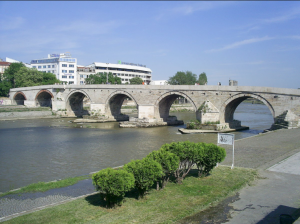 BEER!
Macedonia boasts a good variety of beers to choose from. The two you will encounter in near enough every bar or café are Skopsko and Zlaten Dab. Skopsko, as you can imagine, is brewed in Skopje. Zlaten Dab being brewed in the souther city of Prilep. Aside from these beers, you will regularly find Amstel, Heineken and Tuborg, however these will be slightly more "expensive" than the local beers. And I use the term expensive very loosely because the price of beer in Macedonia is what we Brits might refer to as "peanuts". 
The average price for a local beer at a bar is 80-100 denars (For reference, £1 is roughly 70 denars). Aside from the aforementioned local beers, other popular Macedonian brewed delicacies include Krali Marko, Gorsko and Makedonsko. Personally, Krali Marko was my drink of choice, but it goes without saying that with such a wide variety of beers to choose from, you will definitely find one that suits you.
BARS
When you first come to Skopje, you will notice that bars and cafés are pretty hard to differentiate from one another. This is because, typically, they are one and the same!  Every café you visit will sell beer and people will usually sit in these as if they were bars.   Unlike bars in the UK, there will be waiters who will attend to you at your disposal. Instead of you having to go up to the bar every time you want a drink, just beckon for a waiter and he will do the work for you.  Be mindful that you drink within your price range as the payment is all done at the end when you are leaving. 
Skopje is a relatively large city (roughly the size of Leeds) so, as you can imagine, there will be bars to cater to anyone's needs. One of the more popular bars in the city centre is Centar Bar. This bar has Skopsko on tap on the tables so that you can pour drinks for yourself whenever you want. As with all cities, it's usually a good idea to avoid sitting in the cafés in the main square as these tend to be the more expensive option. 
However, as I said before, expensive in Skopje is a far cry from the idea of expensive over on these shores. If you want to experience a much more cultural drink then I would recommend having a few drinks in the Old Bazaar which is about a 5 minute walk away from the City Square and involves walking over the iconic Stone Bridge. However, it is important to note that some cafés here will not sell alcohol as these are mainly businesses run by ethnic Albanians who tend to be Muslim.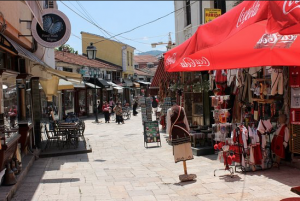 Another popular spot is the Enigma Bar which is a two minute walk from the famous "Warrior on a Horse" statue. The interior is quite contemporary compared to your average bar here but the drinks on offer are quite nice. If cocktails are your thing, then you are in luck as there is a great little cocktail bar about a 5 minute walk from the square on Bulevar Dame Gruev.
THE VINO
One thing I would recommend that people try are the local wines. I know that wine isn't exactly synonymous with football fans, but Macedonia is home to the largest winery in the whole of South East Europe. The winery is called Tikves and operates from a town in East Macedonia called Kavadarci. They offer Red, Rose and White. Personally, I cannot talk much about White and Rose as I find them repulsive to drink, but I would highly endorse T'ga Za Jug as a wine to try. The name is derived from a famous Macedonian poem written by Konstantin Miladinov.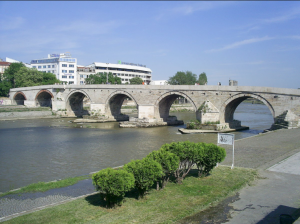 CLUBLAND
So what will you do after the match is over? Well luckily for you, most bars and cafés are open until at least midnight. But, even when they close, as all other cities, Skopje has many clubs to boast. Typically, the price of beers goes up in these venues. But even then, you will only be paying around £2 for a beer. Most of the clubs are within walking distance from the stadium with the closest one being Club Marakana. It isn't your conventional club as it is used for gigs from time to time, but it is a nice spot nonetheless. 
The most popular club that I have seen amongst Skopje natives is Club Epicantar which also often hosts gigs, but these are typically DJ's who play a mix of western and Balkan music. If a DJ happens to be playing a Balkan set then I implore you to go, as it is like something you will never experience again. It will feel like your own personal trashy Eurovision weekend, but in all the best ways.
Having said all of this, we all know that the main source of entertainment will be seeing the famous Rangers go and do what they do best – win. 
Have a blast!