One of the welcome signs of the club's rejuvenation is the ability to do deals for personalised products.  In this regard the appearance of Taxi – a quiz game is most welcome.
And we're offering fans a chance to win a free copy of the game.
Just answer this question – Who scored the first goal in the recent Old Firm match?
Send your entry with the header "Taxi" in the subject line to [email protected]
Deadline for entries – Sunday 15th November at noon.
Scottish-based company Taxi Game Ltd., has added to its range of football-themed Taxi! trivia board games with the launch of a Rangers FC edition.   Developed in partnership with Rangers FC, players will be tested with 300 questions about Rangers FC and 300 general knowledge questions – and just like driving a taxi, the better your knowledge, the better the tips, the more you earn.  
The trivia game, which now boasts 18 different editions, was invented five years ago by former taxi driver Derek Carroll, who came up with the idea while sitting on the taxi rank one winter's evening waiting on his next fare.  It is based on the working life of a taxi driver with players travelling around the board, picking up passengers,  receiving a 'tip' based on their ability to answer trivia questions about that city, sports team or general knowledge.  There are also opportunities to 'sound off' like a cabbie, where you are given a subject to talk about for 30 seconds with six key words that you have to cram in.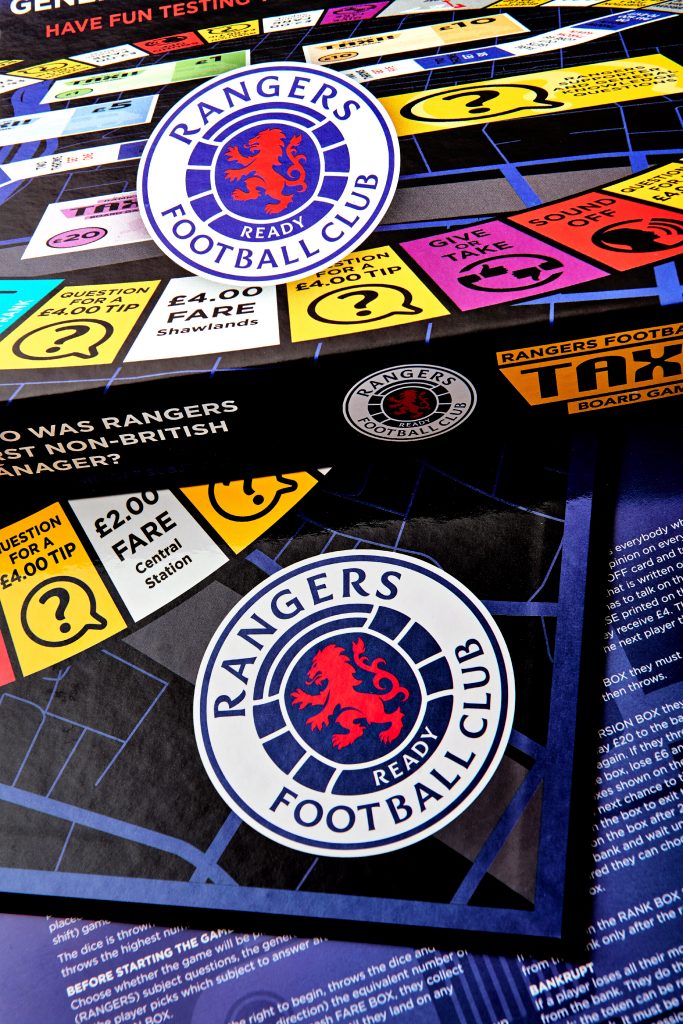 Gordon Drysdale, one of the company's founding Directors explained: "The launch of the Rangers FC game marks an exciting milestone for us.  The Ranger's edition is also unique in that there are general knowledge questions as well as Rangers trivia, so everyone in the family can have a go.
He continued: "As a result of the coronavirus lockdown, many people have gone back to basics, spending more time with their family and friends, and playing board games together has been a popular and fun past-time."
Natalie Nairn, Rangers Partnership and Project Manager, added: "We were delighted when the Taxi Game team approached us about partnering with them to develop a Rangers FC edition of the board game.  The questions cover everything from the club's history, managers and players to our most famous wins.  We know how passionate our fans are about their team, and this game is bound to test their knowledge with some friendly competition. "