Horrified internet users yesterday read that Show Racism The Red Card Scotland had engaged noted Rangers-hating crank Phil MacGiollabhain (also known as Gillivan and White) to talk to them about "anti-Irish racism & education" – this despite his long and well-documented history of racism, bigotry, and support for terrorism.
This is a major disaster for the organisation putting the whole basis of its work in Scotland under threat and leaving it with massive reputational damage which could take years to rectify, if that is even possible.  Associating the cause of anti-racism with the sort of filth Phil MacGiollabhain has promoted all of his adult life is beyond belief.
MacGiollabhain has a track record which reads like a script for a horror movie.  His book on Rangers was withdrawn from serialisation by The Sun after they discovered his background.  While not dressing up in a play as an IRA man – complete with trench coat and broom-handled Mauser (I kid you not) – he co-founded the Celtic/IRA fanzine Tiocfaidh Ar La before falling out with his chums there –  http://talfanzine.info/blog/2013/01/05/a-time-to-publish/
Thereafter his 'journalistic career' found him scribbling for the Sinn Fein newspaper Republican News under a false name. MacGiollabhain is not just obsessed with hating Rangers; he can accomodate Protestants, Unionists, Union Jacks, indeed anyone without Irish DNA and he's written about that most infamously in a blog article entitled "The Incubator" – the thrust of the piece can be gained from this short excerpt:-
"Dodgy DNA…it wasn't in his plan that this creature would do much listening anyway…no intellectual distraction or moral dilemma be allowed to contaminate the controlled environment…it could be programmed to hate any ethnic minority…this was a truly horrible weapons system…the illiterate, drunken, urinating brain dead rioter would define urban combat in the 21st century."
From the rhythm and tenor of the article you can tell he's enjoying himself: this sort of eugenicist filth seems to turn him on and gives an insight into how he sees the world.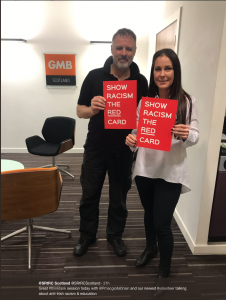 EXCUSES WON'T WASH
I don't believe in coincidences.  In this instance I don't believe that MacGiollabhain just happened to turn up and offer his services as an expert to Show Racism The Red Card and that they invited him along to do a presentation without checking him out.
Thus, no doubt like many others, I had a look at the Twitter profile of Nicola Hay the SRTRCS campaign manager, @NicolaHaySRtRC; not only does she follow MacGiollabhain, she also follows the equally-deranged Celtic bloggers @LaytonBhoy and The Clumpany.  Is she seriously unaware of their output?
The invite to MacGiollabhain to address SRTRCS came after the organisation posted a Surveymonkey questionnaire inviting readers to assist them in assessing the level of "anti-Irish racism" in Scotland.  This is a curious phrase that I will return to it in a moment.  Of course, in real-life the self-defined 'Irish community' in Scotland is almost completely defined by its Roman Catholicism and takes no account of the fact that over the last few hundred years somewhere between 25% and 33% or Irish migration to Scotland has been by those of the Reformed Faith.
The results of the poll are a caricature – the entrants to the poll were both self-selecting and self-defining.  In short, it was a rigged poll, heavily promoted on the most extreme of Celtic message-boards and Facebook pages.  The results bear next to no resemblance to the reality of life in Scotland and the methodology is suspect, at best.
The poll makes an assumption that anti-Irish racism is a major force in Scottish society but it also wilfully ignores prejudice against – and even the existence of – other communities and historic facts ; chiefly that many would self-define as Northern Irish, Ulster-Scots, Protestant or simply non-political rather than the monolithic view of the Irish community – or the descendants of Irish migrants – all being Republican, Nationalist, Gaelic, Catholic and Celtic fans.
A further complication to discussion in this area is the use of language – the phrase "anti-Irish racism' was first popularised in Scotland after the mid '90s ceasefires by the Sinn Fein support group Cairde na hÉireann as open campaigns in favour of violent republicanism were then no longer tenable even for their most ardent cheerleaders.  My considered opinion on the matter is that this was a cynical ploy designed to provide a mask behind which supporters of paramilitary groups could organise: I don't contend that support for terrorism is in anyway contingent on a person's nationality or religion.  For Cairde na hÉireann it was an entirely cynical way to attempt to pretend to speak for all Irish people, or people of Irish descent, in Scotland and to normalise support for terrorism within that community.
That being so, one has to carefully examine claims around anti-Irish racism and those who bring the phrase into play.  In this regard, there was a curious post by Nicola Hay on the SRTRCS website on July 3rd this year regarding anti-Irishness but which had no connection whatsoever with football –
http://www.theredcard.org/news/2017/7/3/anti-irish-racism-is-not-acceptable
Add in the poll and the invite to MacGiollabhain and some kind of pattern appears to be taking shape.
PROBLEMS AHEAD FOR SHOW RACISM THE RED CARD
The first problem for Show Racism The Red Card is how to distance itself not just from the invite to MacGiollabhain but to credibly explain the chain of events which led to him being thought suitable.  To paraphrase Humphrey Bogart "of all the anti-racist offices in all the world, he just happened to walk into mine."
Secondly, there is already a groundswell amongst Rangers fans to have the club distance itself from SRTRCS until it can demonstrate it is free of the influence of extremists like MacGiollabhain. An independent club campaign could easily fill the gap and it would be a PR nightmare for SRTRCS if the club was forced to pull the plug on them.
Thirdly, a catastrophe such as this puts the future funding of SRTRC under threat – it's simply not credible for funders to continue to put in close to a million pounds a year UK wide with the Scottish government providing £68,370 in 2015-16.
https://www.oscr.org.uk/charities/search-scottish-charity-register/charity-details?number=SC040713
THEY WERE WARNED
One of Nicola Hay's predecessors as SRTRCS Campaign Manager was Billy Singh, a man with an unblemished reputation and a record of success and bravery in struggling for what he believed in. Because he was a Rangers fan who refused to indulged in the stereotyping of any group or fans or any community Billy became a target for bigots many of whom subscribe to the hate agenda peddled by MacGiollabhain.
By normalising such evil – by giving to it the cloak of respectability – SRTRCS are not merely betraying their founding principles but also the legacy of the bravest of their own staff.