By Jim Canna.
Leaked posts from a closed Facebook group used by the SNP Councillors for Glasgow, show Council Leader, Susan Aitken and Deputy Leader, David McDonald discussing how to coordinate an attack on Labour politician Frank McAveety due to his criticism of them over the Rangers fanzone row, with Aikten also detailing her strategy to limit Orange Order parades. 
Rangers supporters were angered when Aitken and MacDonald conspired to block a fanzone going ahead at Ibrox earlier this season. They were accused by many of interfering out-with due process and a number of opposition politicians spoke out about their underhand tactics. They have also been reported to the Commissioner for Ethical Standards in Public Life over the matter. Rangers have since reported positive talks with Council officers over the fanzone.  
The leaked postings also show the approach of Aitken and McDonald towards anyone who was supportive of the initiative at the time.
The post shows Aitken and MacDonald urging their fellow SNP Councillors to circulate pictures of Celtic supporter, McAveety attending a game at Ibrox in the Directors Box.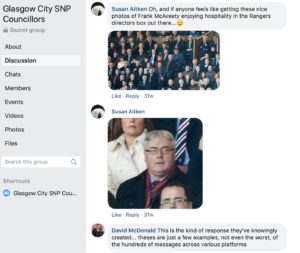 Another leaked post shows Aitken telling fellow SNP Councillors about a premeditated move to attack the Orange Order's right to parade in Glasgow. The post details how she has pressured council officers to re-route parades and agreed with Justice Minister, Humza Yousaf to coordinate further attacks on the Orange Order – through legislative changes if necessary.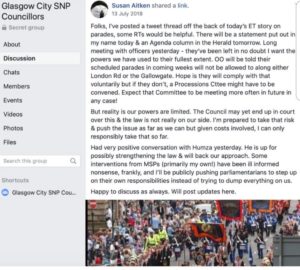 The posts show the determination of the SNP to use any underhand tactics they can to attack anything and anyone linked to Unionism in Scotland and a sinister picture is now emerging of the way the SNP group in Glasgow conduct their business – not least that they are using a closed Facebook group to circumvent discussing council business that would otherwise be subject to FOI enquiries. This is something which may now be subject to further investigation by the Commissioner for Ethical Standards in Public Life and may also be a breach of Freedom of Information regulations.