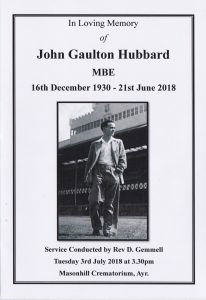 Johnny Hubbard "The Penalty King" had final tributes paid to him at his funeral on Tuesday afternoon in bright heat and sunshine that would have reminded him of his native South Africa rather than the Ayrshire countryside.
His coffin entered the crematorium covered with both the Union Jack and the flag of a new South Africa, whilst the South African national anthem was played and sung in Xhosa – "Nkosi Sikelel' iAfrika " – God Bless Africa.
Lord, bless Africa,
Hear thou our prayers,
Bless us Lord, your family.
The wreath which adorned the casket bore flowers native to both South Africa and Scotland.  Other wreaths came from Rangers Football Club and the Rangers Former Players Association.
The Reverend Gemmell presided and admirably succeeded in the difficult job of praising a life well-lived without descending into schmaltz.  Although there were no formal reading from the Good Book there were several suitable passages upon which he reflected.  He pointed out that on the very morning of Johnny's funeral a new addition to the Hubbard family had arrived with the birth of a second great-grandchild.
Johnny's son Raymond delivered an emotional but wonderfully poignant and warm tribute to his dad which covered not just his footballing career but his life from South Africa all the way through to retirement and the sterling work in sports development, for which he received the MBE.  And in retirement Johnny once again rose to the challenge and threw himself into fund-raising for various charities, Erskine Hospital being chief amongst them.  Johnny had served in the RAF.
Former Scotland manager, and currently Aberdeen director, Craig Brown paid tribute starting with meeting Johnny as he signed on for Rangers – he found in Hubby a friend and guide who helped him develop as a player.   Brown is now mostly known for his media punditry and work on the after dinner circuit – yet his anecdotes clearly came from the heart and covered decades of friendship both in and out of the sporting arena with Johnny.  Other former players present included Peter McCloy, David Wilson and Gordon Smith.
Brown ended his tribute with the famous stanza written by the distinguished American sports writer Grantland Rice.
"For when the One Great Scorer comes
To mark against your name,
He writes – not that you won or lost –
But how you played the Game." 
The funeral party thereafter retired to the Brig O'Doon hotel where many stories were swapped by people from all walks of life who had known Johnny and the air was filled with laughter rather than sadness.
Link to the full order of service – https://www.followfollow.com/forum/threads/the-funeral-of-johnny-hubbard.35731/