By Alistair Aird
On Sunday, just shy of the half-time interval at New St Mirren Park in Paisley , Alfredo Morelos became part of a band of brothers. His winning goal against St Mirren meant he joined 17 others as part of the Rangers post-war centurions. Stretching back to his first goal for the club in August 2017 in a League Cup tie against Dunfermline Athletic at Ibrox, Morelos has racked up his century in 199 games.
For the record, the players who have netted 100 or more goals for Rangers since the end of World War II are: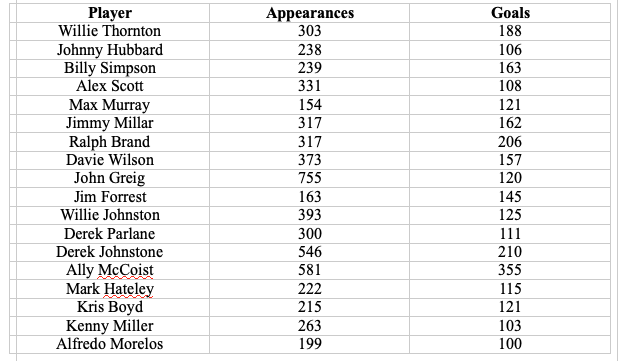 A proverbial list of legends. Taking a look at some of the above, we can establish how many appearances it took them to reach this magnificent milestone. For example, our greatest ever goalscorer, Ally McCoist, grabbed goal number 100 on his 163rd appearance, Mark Hateley hit the mark on his 188th appearance, while it took wee Davie Wilson 242 appearances. In terms of the least number of games to get there, the records of Max Murray (124 appearances) and Jim Forrest (90 appearances) will take some beating.
But let's focus on the here and now and look at the 100 goals El Buffalo has scored for Rangers in a bit more detail.

In the above table, A denotes games Morelos has started, S is for games he has come off the bench in, while G is obviously goals scored.
Interestingly, of the 59 league goals scored, just two have come after the Premiership split, at Rugby Park on the final day of and against Celtic at Ibrox last season. And of his 25 European goals, 13 (52%) have come in Europa League qualifying ties.
Thus, Morelos averages a goal every 2.17 league appearances, a goal every 2.04 European appearances, a goal every 1.29 Scottish Cup ties, and a goal every 1.11 League Cup appearances. As much as he has been criticised for his discipline, attitude, fitness and form during his time at Rangers, his goalscoring return is very good. The expectation would be that your number nine (or 20 in the case of Morelos) should be scoring, on average, once in every two games, and Morelos is delivering those sorts of numbers.
HOW HAVE THE GOALS BEEN SCORED?
It's fair to say that you couldn't pigeonhole Morelos as a certain type of centre-forward. He's not the archetypal target man, nor is he a penalty box poacher. And this is borne out when you analyse how Morelos has scored his 100 goals: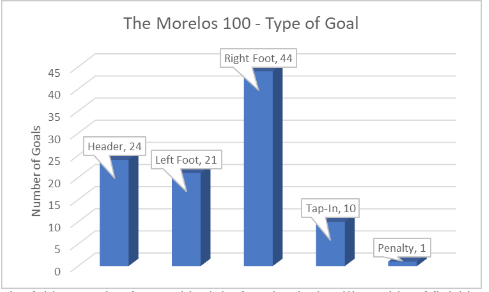 By the look of this, Morelos favours his right foot, but he is still capable of finishing with his left too. And with only 10% of his goals deemed tap-ins, you can see that Morelos isn't one for hanging around in the six-yard box.
Perhaps down to the consistency of James Tavernier from the penalty spot, Morelos has only taken two penalty kicks in his Rangers career, with a 50% success rate. The one he missed was, of course, a vital one, in the 2019 League Cup Final against Celtic.
WHEN HAS MORELOS SCORED HIS GOALS?
Considering each game in six 15-minute segments, Morelos has scored his 100 as follows: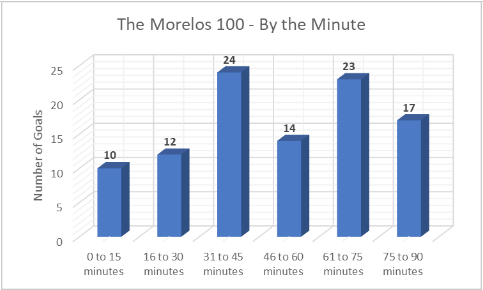 Again, there is a good spread in his numbers here. The 24 goals scored in the latter part of the first half include three that were scored in first-half stoppage time. And of the 17 scored in the last fifteen minutes of the game, four were netted after the fourth official indicated how much time would be added on.
HOW HAVE RANGERS FARED WHEN MORELOS SCORES?
In the 78 matches Morelos has scored in for Rangers, only five (6.4%) have ended in defeat. Meanwhile, 62 of them (79.5%) have ended in a Rangers victory. And of his 100 goals, 27 fall into the category of 'game-winning goals'. These numbers highlight the important impact that Morelos has on the outcome of games. When he scores, more often than not Rangers win.
WHERE HAS MORELOS SCORED HIS GOALS?
52% of the goals scored by Morelos have come at Ibrox, but where has he netted the others? The answer is at 21 other stadiums across Europe from Almondvale to Pittodrie: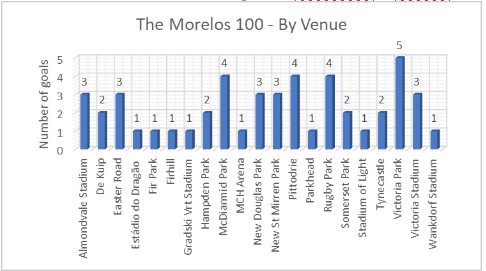 WHICH OPPONNETS HAVE SUFFERED AT THE HANDS OF EL BUFFALO?
Alfredo Morelos has scored goals against 31 different teams since he signed for Rangers in 2017. The eclectic mix contains the likes of Alashkert, St Joseph's, Benfica and FC Porto in European competition and ranges from Aberdeen to Ayr United domestically: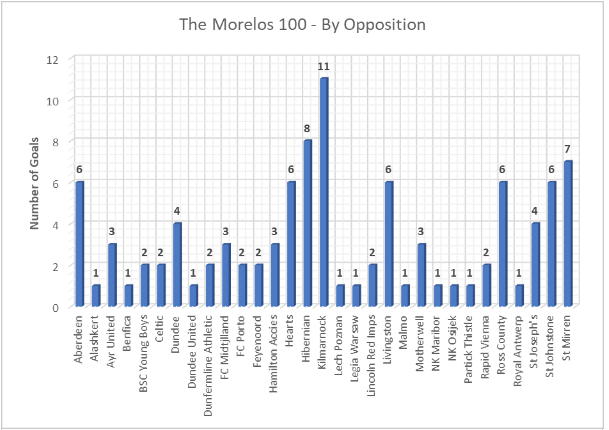 SUMMARY
There you have it, a decent pop at a breakdown of the 100 goals Alfredo Morelos has scored for Rangers. But now he has hit the 100, what's next for the enigmatic Colombian? There is no doubt that if he stays for another season or so he would have a good opportunity to reach the next milestone of 100 league goals. Whether he's around long enough to reach 150 Rangers goals remains to be seen. In the meantime, let's enjoy the rollercoaster ride Morelos is taking us on. He may well be grumpy more often than not, but we all love him, and life at Ibrox would be a lot less eventful if he wasn't around.
Congratulations on reaching 100 goals for the Rangers, Alfredo.
Footnote
The following sources have proved excellent to glean the information required for this analysis:
www.transfermarkt.com
Ferrier, B, McElroy, R., (1998) Rangers – Player by Player, Hamlyn; 3rd edition
Ferrier, B, McElroy, R., (2005) Rangers – The Complete Record, Breedon Books Publishing Co Ltd