I recently came across a box file of correspondence and articles submitted to Follow Follow fanzine  – it had been misplaced and was in storage for years.  One of the letters, which I had put into a file intending to write an article about it, came from Samuel Morrell of Inverclyde in 2006 – sorry for the delay!  I wrote back to Samuel, now retired, last week and received a phone-call and he went over the letter reiterating the salient points.
Over the years there have been several times where the origin of the bike has come up for discussion on the Follow Follow messageboard – here's hoping this time we can get a definitive answer from someone out there!
15/3/06
Dear Sir,
On a recent visit to Ibrox, I queried the statement, made by the guide, that the bike displayed in the Trophy Room was gifted by St Etienne of France.   I said to the gentleman, not he quiet, "you've got that wrong sir, it was the Racing Club de Paris who gave that bike, because I remember seeing the small plaque on it, during the 1970s, when I visited the Trophy Room then."
Anyway, the guide was adamant.  No sir, it was St Etienne, so I said :- well sir, no disrespect to yourself, but I'm going to write to the club about this, because this is not correct re. the story the fans are being told.  
Imagine my consternation, when I got a letter back, from the club, saying, that they had checked with Mr Sandy Jardine, and he had said; the guide was quite correct.  So I decided to write to you for verification.
What I think happened is:-  Rangers FC, re-modernised the Trophy Room about 10-15 years ago, and the card from "Racing Club de Paris" was lost.   I hope you can get this cleared up because, one of the things I pride myself on:-  I have an excellent memory for Glasgow Rangers history.
"Aye Ready" 
Your sincerely,
SAMUEL MORRELL
I had a quick chat with Robert McElroy, the editor of the Rangers Historian, last night and he reckons the two matches, home and away we played against Racing Club de Paris may have come about due to the fact former Ranger Albert Gudmundsson, had also played for Racing Club, 1949-52.   Albert would go on to serve as Iceland's Minister of Finance and Minister of Industry.  Furthermore, Albert had also been at Arsenal and they had a long tradition of playing Racing Club for the benefit of 'war invalids' – http://www.rsssf.com/tablesr/rcparsenal.html – that may prove to be a bit speculative.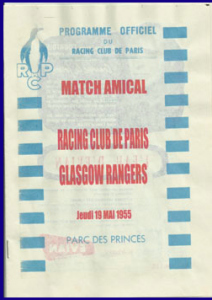 Growing up, the story my generation had was that the bike in the trophy room was a gift from Saint Etienne when we played them in late 1975 – they would go on to lose the European Cup Final against Bayern at Hampden in May 1976.  There were two slightly different versions of why they presented a bike – one was that the winner of the Tour de France was a local lad, the other was that a stage of the Tour had gone through St Etienne that year.
Either story is not unreasonable – in my time deal with French rugby teams they often make presentations during the Protocol featuring gifts related to the town, region or the home village of the captain.  As such I've seen wine, calvados and trays of tomatoes presented!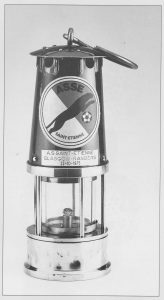 Willie Thornton's book "Blue Heaven – The Ibrox Trophy Room" details the presentation of an "attractive and imaginative gift of a genuine French miner's lamp was presented by our opponents in the second round of the 1975/76 European Champions' Cup."
A Rangers News clipping from 1975 suggests the bike was indeed from St Etienne and the firm who made it, Manufrance, "sponsors many of the French side's domestic games."
Two threads on our old FootyMad site discussed the bike and the earlier ties against St Etienne in 1957 – which are well worth reading, some fantastic memorabilia on display in the 1957 thread.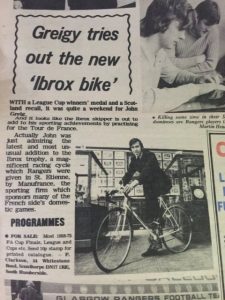 OLD THREAD – http://forum.rangers-mad.co.uk/showthread.php?1089279-Bike-in-the-Ibrox-trophy-room
ST ETIENNE 1957 THREAD – http://forum.rangers-mad.co.uk/showthread.php?1027164-Rangers-v-St-Etienne-1957/page2
The evidence is fragmentary and contradictory – were there two bikes from French clubs?   Why would St Etienne present two gifts?  As ever, we ask the  readers of Follow Follow to search their memories and archives to see if we can get a definitive answer.