Last weekend the Sunday Herald published a "Special Report" on the  Orange celebrations in Cowdenbeath addressed by the Northern Irish First Minister, Arlene Foster.  Only it wasn't a special report – it was a poor report with a pre-determined conclusion written by a journalist who appears to seek to portray both Orangeism and Unionism in a bad light.
A quick perusal of Peter Swindon's previous journalistic output, and his social media ramblings, would leave you in no doubt as to his personal political, religious and footballing preferences.  He's not an impartial observer.
The two articles the 'special report' consisted of followed the all too familiar Sunday Herald recipe of omission, exaggeration and tailoring the evidence to suit the pre-determined conclusion.    I mean – traders complaining about the Orange Walk keeping crowds away when the streets are full of people?!  It was a hatchet job.
Also out and about in Cowdenbeath last week was hobby (sorry freelance) journalist Eoin Wilson – a man so extreme that in 2016 he was served notice by the Israeli government warning him he would be deported if he tried to enter the county and issued with a 10 year ban.   
Wilson's Twitter shots of the day were largely composed of anti-Orange and anti-Protestant graffiti alongside Celtic football stickers which were labelled as "signs of opposition to today's Orange Walk in Cowdenbeath."  As the graffiti all appears to have been spray-painted by one person – and presumably he/she would have been the same person with the stickers – why not label the "opposition" as the work of a lone crank motivated by hate?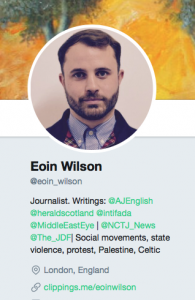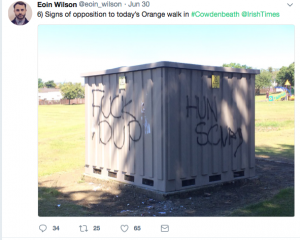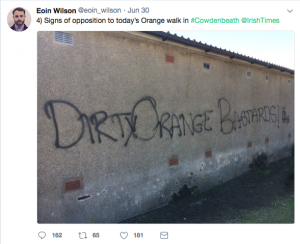 In the small world that is Scottish journalism I wonder if Peter and Eoin bumped into one another last Saturday?
It's not beyond the bounds of possibility as both have connections with two other Sunday Herald contributors – the recently-appointed news editor Angela Haggerty and sometime contributor Liam O'Hare.   
Wilson, Haggerty and O'Hare have all worked for the nationalist website CommonSpace.  O'Hare spoke at conference in memory of IRA man James Connolly representing the Radical Independence Campaign – what a series of coincidences!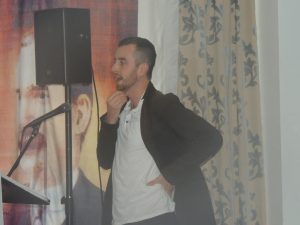 Last year it was O'Hare who wrote pieces for the Sunday Herald attacking the Orange Order for the behaviour of a few spectators.  Haggerty acted as book editor to the hate-filled ravings of Phil MacGiollabhain the notorious bigot and IRA supporter.
The pages of the Sunday Herald are indeed a noxious brew – pandering to the furtherest fringes of the Yes movement, Jew-baiting 'anti-Zionists' and violent Irish republicanism.  In previous years every Orange walking season has seen them take isolated incidents and blow them out of context and proportion.  One technique is to publish a story and then repeat it online over the next few days republishing it on various Times/Herald group websites and social media outlets.   They then usually finish the article with references to their own previous articles.
It is hardly a surprise, therefore, that the Orange Order refuses to deal with journalists from the Herald group.  You will see in some articles a claim that 'the Order failed to respond to enquiries' as if they were hiding.  The Herald know full well that due to their bias the Order was never going to give them the time of day.
The Sunday Herald for many years now has been a parody of a newspaper, more resembling a 1970s student union rag than the Sunday edition of what was once Scotland's paper of record.  With regard to Unionism and Orangeism objective truth is not an option – violent and bigoted caricatures are the order of the day.  
Compare and contrast to their coverage of certain music festivals which resembled open-air drug markets with violent and sexual assaults seemingly dirigeur.  But, of course, when you accept paid advertising and puff pieces by concert promoters journalistic integrity goes out the window.
Normal staff employed inside the Herald building despair at the damage done by the free-fire zone for extremism created in the pages of several of their titles – and paid for by the sweat of profitable arms of the business.   Yet, for too long they have stood idly by.   It seems financial catastrophe may be the only way to bring the reign of madness to and end.
And for those gentle souls reading this and thinking 'I'm just a Bluenose what has this got to do with me?' – the bad news is that for the cranks pushing this poison you are just as much a target as an Orangeman or woman.  It explains a lot about their football coverage too.