From the archives.
I recently came across a box file of correspondence and articles submitted to Follow Follow fanzine  – it had been misplaced and was in storage for years.  One of the letters, which I had put into a file intending to write an article about it, came from Tom Anderson of Maidenhead in 2009 – sorry for the delay!  
I wrote back to Tom, last week but he has since moved away and the letter was returned unopened.  The phone number on his letter similarly returned no joy.  If anyone is in touch please let him know!   We'd love to meet up and publish more of the photos in the album.
The two photographs Tom enclosed are not newspaper clippings but actual photographic prints – a wee bit bevelled and scratched with age but hopefully someone can identify the players, the game and enjoy a bit of architectural and footballing history!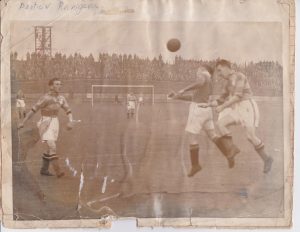 Tom wrote:-
I am enclosing a copy of a photograph taken at a Partick Thistle v Rangers games which was taken circa 1936.  My apologies that I cannot be more definitive, however the photograph is one of a number which were in an album which I came across when I was cleaning out my mum's house in Glasgow.  The Falkirk v Queen's Park photograph on the reverse is glued on and trying to remove it wouldn't be a good idea.
The photographs in the main were relating to Clyde since apparently many moons ago of my relatives played them, albeit not at first team level.
There are other snapshots including one of Willie Thornton scoring in a game  at Shawfield although it is a "cut out" from the old "Pink Times."
I hope that this photograph will be of use for the magazine and it might even act as memory jerker for some of our supporters who are even older than me!
Best Regards, TOM ANDERSON