By Mark Dingwall
Rangers today announced that the club's training ground would officially be renamed The Hummel Training Centre.
It's been a long trek to remove David Murray's name from the facility formerly known as Murray Park.
It was always an ego trip for Sir David.    From me it was always Auchenhowie – from the days when it contained the training pitches of West of Scotland Rugby Club – just over the railways tracks from their Burnbrae ground and the wildlife enclave of the Kilmardinny Triangle.  
I actually remember playing there many moons ago – the land around the pitches then was so overgrown renegade Japanese snipers were still being hauled out of there well into the 1970s!
Originally the new training ground was due to be built at Balgray – the home of Kevlinside rugby club on Great Western Road but that deal fell through – I believe  there was then a bit of land-swapping before Auchenhowie was purchased.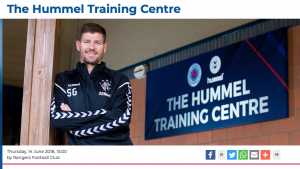 Long before the training facility was opened I was approached by the then Club Secretary Campbell Ogilvie.   That was a bit strange, as Campbell was someone who liked to do things by the book.   But he was also a diplomat and someone passionate about the history, image and culture of the club – and he was looking for a bit of help.
He knew that Murray intended to name the facility after himself and he didn't think that was appropriate.  Frankly, it was toe-curlingly egotistical.  He wanted to head anything like that off at the pass.
Having consulted on FF I put up an idea for naming the centre after one of our early heroes, one of the Founders, Moses McNeill.   Moses had often been presented as the Founder.   His name was nicely alliterative, biblical and had a Victorian air about it.
I argued you could create a culture around the centre using our history and welding it to the use of cutting edge sports science – a club founded by four lads who had to train harder and more often to compensate for playing opponents generally older and more experienced than themselves.  A club ahead of it's time in many ways – in later years Struth would take his experience of athletics and apply it to football during his time at the helm.
I'd even thought we could invite the centre to be opened by the former Brazilian 1970 World Cup captain Carlos Alberto – the scorer of perhaps the most beautiful team goal in the history of the game.  A friend of mine was doing business with him at the time.  Perhaps getting a little ahead of myself?  Probably, but that's how you football memories get you.
Anyway, it was not to be.  The story given out is that Sir David was ambushed by Dick Advocaat and the directors of the time and he was surprised to see they had taken the decision to name it in his honour.   Believe that if you will.
There were other alternatives – but in my ego-filled mind, not as good as mine!  That was one battle lost.
More sadly for the club, Campbell Ogilvie would lose a rather more important battle in terms of the type of club we have when he was ousted by the brash and the power-hungry.  As he prepared to move away I saw him at a Rangers AGM and offered FollowFollow.Com as a conduit through which information could be channelled to undermine the regime as it then was.  He declined – "Not my style."   He was, and is, a man who believes the game should be played according to the rules and governed by decency.  The club was, for him, more important than the man.
Years ago the Rangers Supporters Trust called for the re-naming of Murray Park long before he sold the club to Craig Whyte.   Even then, some could see how he was running the club was not going to end well.   We were proven right in the end – but that would be a bitter victory.
Now we have change.  We've waited long for it so I won't be crass and call for the Hummel Training Centre sign to be crowbarred off in the morning.  It's an improvement and part of the process of repairing the damage done to the club by David Murray.
If asked what to name the training centre in future years I might now favour something involving the Gallant Pioneers, my great hero Tom Vallance (the first Follow Follow headed notepaper featured the great man) or Davie Cooper – a great talent who died tragically young passing on his skills – and who himself might have achieved even more if only Scotland' sporting culture was not so backward with regard to sports science.   As ever, our club culture and history gives us a huge pantheon of heroes to choose from.  That's for another day.
When we do get around to another renaming it might then be appropriate to ask the advice of Campbell Ogilvie – a man who fought the good fight and was proven right in the end.