Well-Known Member
Official Ticketer
Dear Rangers Family
At the start on November 2020 the RSEA met up with Erskine outside Ibrox Stadium and presented them with a cheque for monies raised from April 2019 til 1st November 2020
The sum raised in this period was for £214,000.
This took our sum since 2007 to an incredible £1,081,173.29p
This has been covered in the press today.
Here is a list of thanks which I hate doing as I'm terrified that I miss someone and offend them - that's not my intention.
If I've left you out I apologise sincerely
"The RSEA was born in 2007 on Followfollow.com after I decided to attempt to raise awareness of and funds for the Erskine Home for Veterans in Bishopton
Our Target was set at £1,000 and a sponsored walk in Glencoe quickly realised this sum.
As a result we were able to give 12 old souls a day out at the football and send them home happy with a belly full of food and whisky despite the draw with Hibs that day.
Over the years that followed we have held numerous events, including Sportsman's Dinners, football tournaments, golf days, sponsored walks, cycles, abseils, zipslides, bowls tournaments.
We also have a large range of Merchandise which has helped us continue to fundraise through the Covid Pandemic.
We try to encourage support from various fan groups within the Rangers family and have received huge support from Murray Roxburgh & GrailPR, Mark Dingwall and Follow Follow. Com, Ian and Wilf and friends @The RSEANE, Iain Macinnes, Alex Rae, the late John Hubbard and Billy Simpson, Colin Stewart, Andy Cumming, Mrs Linda Twohig, Rangers Radio, the Union Bears, the Sons of Struth, the Army Cadets, the Railway Bears, Jamie Durrant, Craig Sutcliffe, David and Louise, John Greig MBE.. Vanguard Bears, TBO, the Heart and Hand Podcast, the Sons of Struth, The Spirit of 72, P.E. Glasgow, Capt Greig Guthrie BMN, Spendally Framing, NARSA, ORSA, the Sherbrook Castle Hotel, Partick and Renfrew Bowling Clubs, D17giant, Mrs Helen Runciman, The Gers TV, Mr Jim McHarg and the Grand Orange Lodge of Scotland and numerous Masonic Lodges and Clubs.
Our bulk badge sellers Plus all the folk who set and achieved your own targets and goals. You know who you are
Well done to you
Id also like to thank all the Rangers supporters clubs and buses, as well as local businesses and Rangers Bars who have rallied to our cause.
With special mentions to Kings Park Loyal, Nith Valley Loyal and Kirkintilloch RSC who have been with us since day one.
Massive gratitude and thanks go to our inspiration and late Honourary President Harold Davis and his wife and Vi.
And to our Patrons
Gordon Smith, Lee Wallace, Ian Ferguson, Dave Smith, Richard Gough and Sammy King
Thanks in particular go to every single person who has donated a £1 or has given hour of their time without them we don't exist.
To reach over £1,000,000 for the Erskine Veterans has been a labour of love, and I am delighted we have now passed through that mile stone, lets see what happens next
Spectemur Agendo
Many thanks to you all
We Are The People
*sorry if I've missed you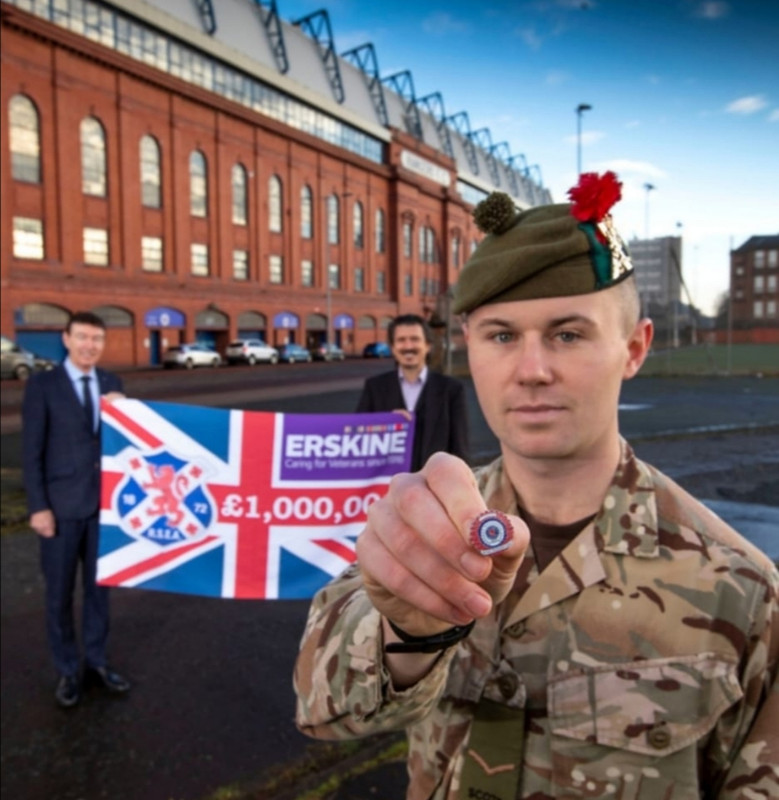 Last edited: