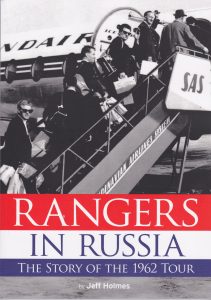 The early 60s was one of those periods in the club's history which can justifiably be called a golden time – fantastic players, wonderful stories and titanic matches.  The Tour of Russia is a gem.
This tome – 80 pages long like one of those commemorative seasonal books that used to be so common – is lavishly illustrated and features new pictures from players and fans.  It also catches the flavour of the times and the fervour it aroused in Scotland as the players traversed the Soviet Union to play Lokomotive Moscow, Dynamo Tbilisi and Dynamo Kiev – in Russia, Georgia and the Ukraine to be pedantic!
It's a galloping read – it's not dull – it mixes the author Jeff Holmes' own researches with player memories, newspaper reports from the time and some decent background which explains how the club was operating at that time.
The Soviet Union in the 1960s was very much a land of mystery – emerging as it was from Stalinism but still brimming with confidence it it's social system and the reflected glory of victory in the Second World War.
For Rangers fans there was that extra buzz as our game in 1945 against Moscow Dynamo loomed even larger in the folklore of the club than it does now – widely seen as the Red Army team (actually Dynamo were the club of the NKVD secret police)  – and that clearly had an impetus to the reaction to the undefeated out – two wins and a draw – that saw over 10,000 Rangers fans congregate at the old Renfew Airport to greet their heroes on their return.
It's a great read an important record of a fantastic episode in the club's history.
Available for just £5, it can be purchased from the Rangers Youth Development Company Office in Broomloan House at Ibrox Stadium. Supporters can also email [email protected] or call 0141 427 4914 for more information.