#joinontheboyne
"The Big Walk" takes place this Saturday in Glasgow – it's a celebration of the anniversary of the Battle of the Boyne in 1690 by the Orange Order
A Facebook page for information, celebration and recruitment has been set up – https://www.facebook.com/groups/186267082052756/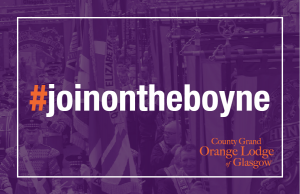 The Orange Order is one of the sadly few organisations still celebrating and promoting Scotland's great Reformed heritage which brought so much good into the world.
On Saturday, in addition to the colour and spectacle of the banners and the bands, there will be members available to chat to non-members and they will dispense bags containing information about the Order both on the street and in Bellahouston Park – but be quick and snap them up, I suspect they may run out quickly!
The Orange Order is both protestant and patriotic.  I don't come from an Orange family but joined because of my sympathies and the example of the man who recruited me.
I joined LOL Glasgow 800 – formed in 1975, 800 years since the city was granted it's charter as a burgh.   We met on the south side of the city.    Some say it was a businessman's lodge – in reality it has always been more of a charitable lodge providing funds for service charities and the likes of the Lord Provost's fund for the disabled.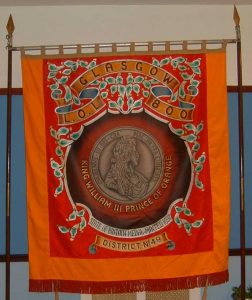 The reality of life in a lodge is not the caricature our opponents make it out to be.  My own lodge has  had some wonderful characters ranging from former Rangers director Jack Gillespie to those of us with workaday jobs as railwaymen, electricians, carpet-fitters and office workers.   We've also had three former Labour councillors, one Tory, a sculptor, a pastor, a Salvation Army captain and two chartered accountants.  A varied bunch!
We've lost a few regular attenders in recent years and have started actively recruiting so drop me a line of you fancy it and I'll send out an information pack.  – followfollow@hotmail.com
Our meetings are great for discussion – and actually taking part in activities to improve our country and our city.  Parading is just a part of the culture – for us that's just a culmination to the year's work.  As a lodge we've also paraded in County Donegal in the Irish Republic and in Toronto and in  parts of Northern Ireland.  We have an ongoing friendship with the lodge in Ballykelly, County Londonderry.
If you are outside Glasgow or outside of Scotland then don't let that deter you – there are 400+ lodges all over Scotland and in Ireland, England, Wales, Canada, USA, Ghana, Togo, New Zealand and Australia.  You won't regret it.
You can contact the Grand Lodge of Scotland directly at their HQ  – 13 Olympia Street, Glasgow, or by email grandlodge@btconnect.com
#joinontheboyne