By Mark Dingwall
His exploits will be retold and remembered over the next few days.  His was a remarkable story and the stuff of legends. Others can do that better tribute than I can but what a career; 65 penalties scored out of 68 he took, what a record.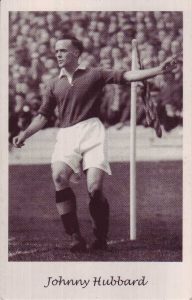 I first met Johnny through Simon Leslie – better known to FF users as Manfromdelmonte. Simon and his brother Scott had 'rediscovered' Johnny and his great pal Billy Simpson in the Wee Rangers Club.  They retold the parts both of those magnificent sportsmen had played in the Rangers Story.
Slowly, the invites started to come in to attend functions and dinners again as new generations of Bears discovered that these legends still walked amongst us.  Humble and understated as they were, both still retained that quiet charisma of the professional athlete.
Rangers director John Gilligan often picked Johnny up from his Prestwick home to bring him to the game – although sometimes Johnny would make his own way to Glasgow for a rendezvous with old pals or a bit of shopping; well into his 70s he'd regularly make the walk from the city centre out to Ibrox.
LIMAVADY
To mark the official opening of the Limavady Rangers Social Club over in Ulster, Johnny and Billy Simpson were invited to do the honours.  Myself and FF user Hagi accompanied them.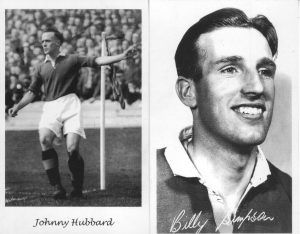 On the ferry over an old St Johnstone fan recognised them and came over to chat, then his relatives were called over – all were spellbound by the anecdotes and memories that flew thick and fast.  We'd had picture postcards made for autograph requests and the first ones were signed on the ferry.
Our travels were not without incident when my car ground to a halt in the main street of the very republican village of Bellaghy (home to two hunger strikers) after we had taken the scenic route.  While we waited for the tow truck Johnny and Billy went to "stretch the legs" – as usual they entertained the locals with various tales whilst Hagi and I prayed for deliverance!
We stayed for that trip at a hotel in Coleraine. On the first night we arrived we went for a trip around town and to visit the statue of the old Celtic captain Bertie Peacock, who was a great pal to both of them – he always roomed with Billy whilst they were on international duty for Northern Ireland.
After the photos were taken with Bertie it was into Queens Arms around the corner for a few drinks – by coincidence a couple of guys who helped run the Milk Cup Tournament founded by Bertie (now a massive and prestigious youth tournament) were in and off went our heroes regaling the locals with their memories whilst mein host searched for photos on his laptop behind the bar.
The next night – before heading to the Limavady club – Hagi and I went up to the boys room to give them the plan of action for the evening.   They had their Rangers blazers and ties laid out – I asked, somewhat surprised "do the club still supply you with those?" – no, son, we ordered them ourselves.   We tried to give them £50 each to buy a few rounds of drinks etc and the two of them politely declined – "just happy to be here."  They never took a penny.
The night at the club flew by – it was magical watching them working the crowd like old pros.  I'm sure everyone who was there has fantastic memories.  Councillors and local worthies were all treated the same – stories, jokes and photographs.
We fitted in a couple of tourist detours on that trip – to Derry's Walls and down to the Giant's Causeway.   In the Maiden City they posed with re-enactors, studied the cannon and toured the Apprentice Boys Memorial Hall.  Johnny loved it – "Everyone in Britain should come here and learn."
At the Giant's Causeway it was a scorching day – the kind of day that's so hot you wouldn't get out of your seat unless you knew there was a cold drink within a few paces.  On the way back up we headed for the bus stop but Johnny decided that he and Billy would enjoy the walk back up to the top of the cliffs.  Hagi and I exchanged nervous glances as we sweated in the heat but had to toddle after them.  The two bold yins then started arguing about who was the fitter – and then decided (both in their 70s) to have a race to the top!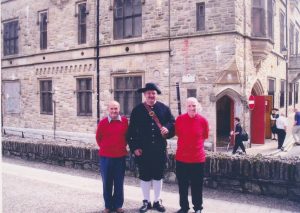 Some years later – to celebrate the anniversary of the formation of the Limavady supporters club (not the opening of the social club) – Manfromdelmonte and I took Johnny over, sadly this time Billy was too unwell to join us.  Again, Johnny proved to be a star turn – on the Saturday afternoon we went up to Londonderry as he had fallen in love with the place.  There had been an Apprentice Boys parade earlier that day and there was a function on in the Memorial Hall.  Johnny was invited to take to the stage; unscripted he held that audience in the palm of his hand, sharing jokes, telling stories and performing a few songs from his childhood in South Africa. He had them rolling in the aisles.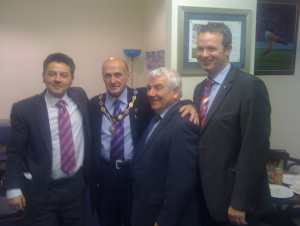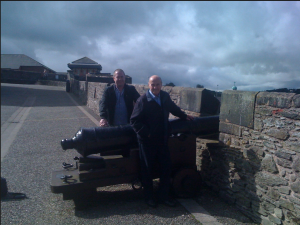 HIS 80th BIRTHDAY PARTY
Johnny's 80th birthday party was to be a hoot.   The only function area we could hire in Ibrox that Saturday was the Davie Cooper Suite, which is fairly small.  Anyway, it sold out quick – so quick we dispensed with a small dance floor in order to get more tables in.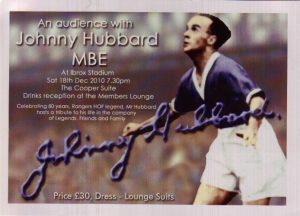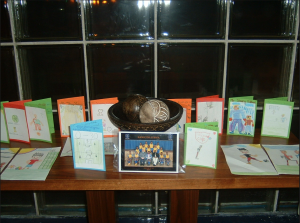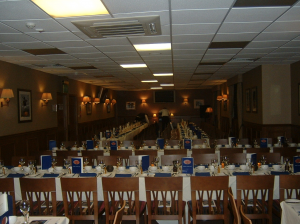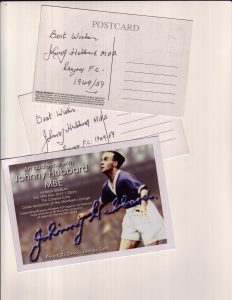 Because the capacity was low we'd told Johnny he had a table for friends and family and could he supply us with a list of names nearer the time for place-cards.  Something was lost in translation – as rather than the ten intended, Johnny gave us a list of 37 people he had invited!  It was going to be a tight squeeze.  His friends, family and those who had helped him with his work in promoting sports in Prestwick (for which he was granted an MBE) had no idea how the staff worked to make the night a success – in the end we were all packed in like sardines at trestle tables drawn up like school dinners!
A highlight of the night was a display organised by the Rangers Supporters Erskine Appeal – a cause dear to Johnny's heart – of cards and drawings of Johnny sent over from South Africa by the pupils at his old primary school.  Talk to anyone there that evening and I guarantee they will have a smile on their faces: it was a wonderful night.
They say you should never meet your heroes as they'll disappoint.  Well, they got that one wrong with regards to Johnny Hubbard – funny, polite, helpful, down to earth, and a true gentleman.
I once cheekily asked Johnny what went wrong with the three penalties he missed: quick as a flash he answered – "I didn't miss any – the keeper saved those!"
Once, long ago, tens of thousands sang his praises and cheered his skill.  Now, alone in the majesty of death, he receives, from friends and old foes alike, that most beautiful of tributes – he was a gentleman.