There was a classic example of below the line bias in the Daily Record on Tuesday.
A story – reported entirely accurately and positively in every other Scottish news outlet – featured young Ross McCrorie thanking Pedro Caixinha for handing him a first team place.  But the Record being the Record the picture accompanying the news featured an unconnected picture from a training session with McCrorie appearing to give the V-sign under the headline "THANKS PEDRO" – the effect is to make the lad appear to be a ned.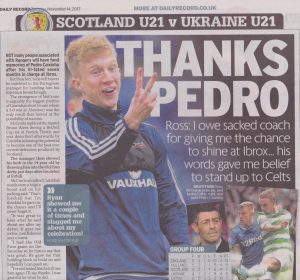 In fact, I've heard nothing but good reports of Ross and his twin brother Robby – also in the Rangers youth system – in terms of their behaviour on and off the field.  So the question has to be asked – why was that picture and that headline employed?
If we were being crass we could compare and contrast the the coverage of McRorie with that of Celtic player Kieran Tierney who is, being fair, proving himself to be a great prospect even allowing for the £20m, £30m or whatever valuation the Record have on him this week.  You get my drift.
The Record were also keen to parrot the Parkhead PR-inspired put up quote from ex-Celtic Jim Craig 'shocked by the state of Ibrox' – the day after Celtic were taken to court by the family of an Irish fan who died inside Celtic Park.  You can see the pattern.